This Warrior Bride Saved Her Grandparents From a Car Accident on Her Wedding Day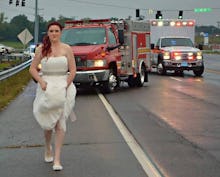 Some people have pretty weddings. Sarah Ray is not one of those people.
The 29-year-old paramedic from Montgomery County, Tennessee, had just tied the knot with her husband Paul on Oct. 3 when she received a call saying that her father and grandparents had been in a minor auto accident on their way to the ceremony.
Without missing a beat, Ray leapt into action. She arrived on the scene in full wedding garb and personally delivered aid to her afflicted relatives. The bizarre incident would have ended there were it not for this photo snapped by Ray's mother, Marcy Cross Martin.
The image was ultimately uploaded to the Montgomery County Facebook page on Oct. 9 where it went mega mega viral, generating more than 15,000 likes and 6,200 shares.
"I'm extremely surprised and very overwhelmed trying to keep up with everything," Ray told Mic. "There's been so many people talking to me; I can't even keep track of everything."
"I just have to laugh because I know the face that I'm giving my mom is the 'really mom, right now you're taking a picture.'" Ray told NewsChannel5. 
Ray's grandmother suffered minor injuries for which she was treated at a local hospital, but otherwise things were OK. The accident was reportedly caused when another motorist hit their vehicle after going through a red light.
While many have called Ray a hero, the soft-spoken paramedic insisted that was not the case. "I didn't really do anything at that point and time; the ambulance was already on scene," she said. "I don't like that everybody keeps using the word hero because I don't feel like I did anything heroic." 
"It definitely makes for a memorable wedding," Ray's mother told ABC News. "I hate that the actual accident had to happen, but everyone is going to be OK, so we can kind of laugh about it [the photo] now." 
After the incident — grandma secure — Ray and her wedding party returned to their reception and celebrated. 
Now, that is how you get married.