Samsung Gear S2 Smartwatch: Reviews, Specs, Features and Price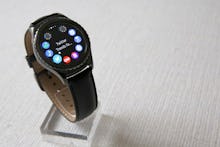 The Samsung Gear S2 was released in the United States in early October and is already making waves in the wearable tech industry. Samsung says its latest watch-gadget is Wi-Fi compatible, can last up to three days without a charge and features a round design that sharply differentiates it from its highest-profile competitor, the Apple Watch. 
According to reviews from CNET and the Verge, the Gear S2 is different from its predecessors and other competitors not just in style, but in functionality as well.
It's the first Samsung watch that will be compatible with Samsung Pay — though that feature has not yet rolled out — allowing users to pay for purchases by simply tapping their wristwatch to a payment machine in select retail locations. 
According to the Verge, "The S2's new user interface perfectly complements the rotating bezel, as well. It's fast and easy to understand, unlike the byzantine menus on the Apple Watch or Android Wear. Turn the ring to the right from the watch face and you access widgets of information; turn it to the left to see your notifications." 
The S2 uses a gear on the outside of the screen that allows users to toggle through messages, notifications and third-party apps. The review also notes the efficiency in speed among the apps available for the Samsung Gear S2, but also predicts the company's greatest obstacle will be getting tech developers to create new third-party apps for the product. "Samsung said it was partnering with developers to get apps on the platform, but that hasn't materialized into anything compelling yet," the Verge's Dan Seifert writes.
The standard Samsung Gear S2 costs $300, while the classic version, which only features a different finish, costs $350, according to Wareable. The watches can also come with various straps, including black, white and leather.  
What may set the watch apart from its competition more than any other feature is perhaps its 4G capabilities. Wareable reports both versions of the watch come with built-in 4G technology that lets users take calls through their watch without a Wi-Fi connection.
Further information on the Samsung Gear S2 can be found on the company's website.