Here's How Thoroughly Drake Has Already Dominated 2015 — In One Chart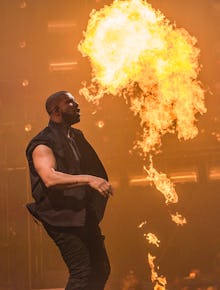 908There was a time when Drake was hip-hop's underdog. It was easy to deride his gloomy, emotionally attentive rap ballads as soft and dismiss him as the boy who would forever be Wheelchair Jimmy. Even when his fan base grew, he was still rap's guiltiest pleasure and pop radio's darling. 
Those days are long gone.
The moody sing-song rap aesthetic Drake has doggedly popularized over the past nine years has grown into a hip-hop mainstay, and he's still at the forefront. This year, Drake has factored into many critical conversations surrounding music — save those beginning and ending with Taylor Swift — all while making a killing on the charts. He still hasn't even dropped the only album fans have actually had time to anticipate: the mythic Views From the 6. However, whatever happens upon its release, it'll hardly change the fact Drake won 2015 long ago. 
The blog Rukkus put together an interactive chart (screenshot below) showing what the year of Drake has looked like on the charts. Sudden smash "Hotline Bling," No. 2 on the Billboard Hot 100, is his first huge single. With precious little promotion and an unparalleled understanding of the ways people consume and interact with music in 2015, Drake has built a different kind of supremacy. The end result: There likely won't be a single day in 2015 where there's not a Drake song on the charts.
They don't have an award for this: Each line corresponds to a different song and charts its rise and fall on the Billboard Hot 100. The massive tangle may be hard to follow, but it's this intricacy that reveals how unique of a career-defining and record-breaking year Drake has had, riding on the strength of two projects.
Following If You're Reading This It's Too Late in March, Drake tied a record set by the Beatles in 1964 for most simultaneously charting singles. In September, the release of What a Time to Be Alive co-released with Atlanta rapper Future, gave him eight more charting singles, which brought his career Hot 100 hits up to a solid 100, just above James Brown and just below Elvis for most career singles. He's one of four artists to achieve the feat.
Part of the reason his music has been able to chart like this are the adjustments Billboard made to their charts in 2012, factoring streaming numbers to determine chart position. Even though it makes it easier for long-form projects to chart, it takes artists crafting strong, cohesive aesthetic to work these new algorithms the way Drake has. 
Drake proved back to back that long-form projects are not dead as a commercially viable form, as critics have been bemoaning since the late '90s. In February, he broke a record on the Hot R&B/Hip-Hop charts by having all 17 tracks of simultaneously If You're Reading This It's Too Late chart. He did the same with What a Time To Be Alive in September. It seems he's still not satisfied.
In his Fader profile from September, responding to a compliment that his mixtapes sounded as "cohesive as any 'real' album," Drake responded: "By the standard I hold myself and [Noah "40" Shebib, Drake's go-to producer] to, it's a bit broken," he said. "There's corners cut, in the sense of fluidity and song transition, and just things that we spend weeks and months on that make our albums what they are." 
Artist and social engineer: Beyond making resonant music, Drake set a new standard for how artists can utilize the Internet to give their expressions more reach. His fan engagement hasn't taken the form of aimless social media conversations and rage tweets, however. He mocked his onetime rival Meek Mill for relying on Twitter to shame Drake for alleged ghostwriting instead of finding a more impactful way to make waves in the space. Drake effortlessly won that beef by swaying with the movements of the Internet, like a yogi swaying with the breeze. 
He got out two tracks before Meek got one. At his OVO fest in August, likely the most memefied rapper in history rounded up all the memes created about the beef and projected them in a PowerPoint presentation. It gave him a huge boost on the charts. The Web loved it, just like they've loved all of his spread of unexpected one-offs this year. Think of his remix of Nigerian rapper Wizkid's "Ojuelegba," or his remix of Ramriddlz' "Sweeterman." They're examples of the flexibility Drake is determined to continue keeping at the forefront of his music.
Source: Soundcloud
"I'm always thinking, 'How do I top what I've done?'" Drake said in an interview with W Magazine released Thursday. "How do I make this thing stronger? I ask myself, 'Why does Adele's album go diamond, and how do I do that? How do I create art that makes minds stretch further?' I want to give many, many people many, many moments before I'm gone. That's truly the art of what I do. It's the only goal."
Drake's year of experiments in new release strategies, flows and methods of engaging with fans seems to be paying off. When his coup de grace arrives, the charts tracking his Billboard performance are likely get even more crowded, whether or not Views From the 6 proves to be his 21.