50 Cent Responds to Rick Ross' Comments About His Bankruptcy Case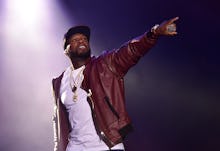 Rapper 50 Cent responded to rapper Rick Ross' recent comments on Fiddy's alleged bankruptcy the best way he knows how: by creatively flaunting his money.
In an interview with Power 105.1 radio host Angie Martinez over the weekend, Ross addressed a prior beef with the "Candy Shop" rapper, pointing out that claiming bankruptcy put 50 Cent's brand at risk. "That's your name, that's your brand. You walking away from it, saying, 'that's it'," Ross said. "'Get rich or die tryin', and now you bankrupt."
On Tuesday, following Ross' interview, 50 Cent posted a series of three photos on Instagram showing off his Benjamins to prove he's not broke. In one of them, the rapper uses his hundreds as a blanket.
He even ironically spelled out the word "broke" with his cash stacks. "Man, this lunch money," he wrote.
Ross and Fiddy's beef may have been part of what led Fiddy to claim he was broke in August. The "Get Rich or Die Tryin'" rapper filed for bankruptcy the day after a court ruled he had to pay Ross' ex-girlfriend and parent of his child, Lastonia Levinson, $5 million for narrating a sex tape of her and sharing it on the Internet, as reported by the Washington Post.
Watch Ross' full interview with Angie Martinez below: