'Dance Moms' Star Abby Lee Miller Indicted on Bankruptcy Fraud Charges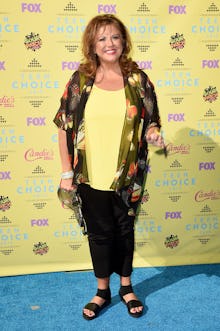 Abby Lee Miller, who is perhaps best known for her role as head coach in the Lifetime series Dance Moms, has been indicted on three separate bankruptcy charges, Entertainment Weekly reports. A statement Wednesday from the U.S. Attorney's Western District of Pennsylvania office detailed a 20-count indictment against Miller, 50, accusing the reality star of of bankruptcy fraud, concealment of bankruptcy assets and false bankruptcy declarations.
According to the court's statement, Miller allegedly filed a petition in 2010 to reorganize her dance studio, the Abby Lee Dance Co. Miller then set up bank accounts to hide the money she earned from her reality TV series and its spinoffs. Miller is accused of spreading $755,492.82 across multiple accounts.
All told, Miller faces up to five years in prison, a $250,000 fine, or a compounding of both penalties. Miller will be called to the U.S. District Court of Pittsburgh on Nov. 5, Reuters reports. 
This isn't Miller's first court appearance in the past twelve months: In November, Miller beat Dance Moms co-star Kelly Hyland in court after the two engaged in an on-camera altercation during season four of the TV series. A supreme court in the Bronx, New York, dropped the charges against Hyland on the condition she complete two days of consoling and refrain from seeing Miller for six months, according to Entertainment Tonight. 
In July, Los Angeles Superior Court Judge Ruth Kwan threw out a case levied by Hyland's daughter, Paige, accusing Miller of abuse. Paige Hyland's assault claim was filed in October 2014, the International Business Times reports. At that time, Paige was 13 years old.
Miller has emerged the victor in recent court appearances, yet it's unclear if the reality star's luck will continue considering the severity of these latest charges. 
"Federal bankruptcy proceedings can be a lifesaver for honest individuals overwhelmed by debt resulting from any number of legitimate reasons, but allegations of fraud and abuse threaten the integrity of the bankruptcy process and the public's trust in it," said special agent Scott S. Smith of the FBI's Pittsburgh Division, per the Attorney Office's statement. "We take our responsibility to pursue allegations of bankruptcy fraud seriously."