Kendall Jenner, Pro Athletes and Basketball Fans Tweet Their Support for Lamar Odom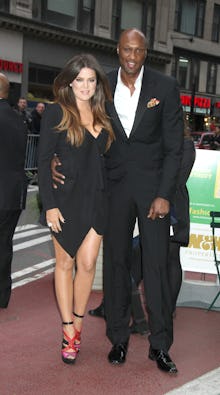 Fans, fellow professional athletes and even a member of the Kardashian-Jenner crew are showing their support for Lamar Odom after the 35-year-old was found unconscious in a Nevada brothel Tuesday afternoon. The former NBA player and Khloe & Lamar reality TV star, who has suffered from substance abuse in the past, had reportedly been using an herbal Viagra known to contain harmful ingredients before needing to be rushed to a nearby hospital where he remains in critical condition.
Although Odom and his wife Khloe Kardashian have been separated for some time, ABC reports Kardashian has been staying by the basketball player's hospital bedside while others come to visit him, including Jesse Jackson, Kris Jenner and Odom's former teammate Kobe Bryant.
As news circulated Tuesday and Wednesday of his condition, Odom's friends, colleagues and fans took to Twitter to express their sympathy and support.
Former NBA player Magic Johnson sent a series of tweets supporting his colleague, writing, "I have been praying all morning for my good friend and Laker great, Lamar Odom, that God will bless him to pull through."