13 of the Best Movies to Watch on an Airplane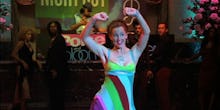 What makes for a great in-flight movie? It's a tricky recipe, full of ingredients that require a fine balance. It must be pleasant but not boring. It should be exciting but not require all of your attention, nor be wild enough to disrupt your neighbors. Most importantly, it needs to be easy to catch up with the plot if you fall asleep for a little while.
In-flight movies are not bound by genre or length, but instead by these factors. A long flight may be better served by an action film; a short flight may be the ideal length for a light comedy. The key, though, is finding the perfect plane movie regardless of genre. Here are 13 great examples:
Miss Congeniality
The perfect date to watch Miss Congeniality is any date. Sandra Bullock's 2000 comedy about an FBI agent infiltrating a beauty pageant holds up beautifully, with great action and laugh lines but a basic enough plot to allow one's mind to wander. If attention does shift, make sure it's back in time for the finale: Hearing William Shatner sing "She's beauty and she's grace, she's Miss United States" while Bullock gets beaten with a bouquet of flowers is the kind of experience you can't relive enough times.
Taken
Especially when coming back from a vacation, a spark of excitement can be quite necessary before returning to the doldrums of life. Liam Neeson's Taken is just that jolt. Watching a father fight for the safe return of his daughter is emotionally compelling — this isn't just pointless action. Bonus: If you're on a long flight, watch the two sequels as well.
Something's Gotta Give
Traveling with parents? Grab the earphone splitter and fire up Nancy Meyers' 2003 modern classic. Everything about Something's Gotta Give is warm and friendly, from the camel-toned cardigans to the beautiful beach setting. Order some wine from the flight attendants to really complete the Meyers experience and get ready to cry along with Diane Keaton.
The Best Exotic Marigold Hotel
The Best Exotic Marigold Hotel may be the closest thing we have to a cinematic definition of a pleasantry. It's unchallenging, fun and just plotty enough to keep one's attention. There's nothing upsetting or disturbing in it. No one wants to see their favorite English character actors and actresses — from Judi Dench to Bill Nighy — experience too much trauma. Watching them live a quaint, charming life in an Indian hotel is the perfect tone to set on a flight.
Legally Blonde
"Exercise gives you endorphins. Endorphins make you happy," Elle Woods (Reese Witherspoon) explains in this 2001 legal comedy. On a plane, laughing and smiling is about the best one can hope for in terms of exercise — but Legally Blonde gives them in spades. Feeling kind of over the film version? That's upsetting — no one should tire of Witherspoon's iconic performance — but there is also the musical version on YouTube starring Laura Bell Bundy to enjoy.
Salmon Fishing in the Yemen
The actual plot of Salmon Fishing in the Yemen matters very little. In the Golden Globe-nominated 2011 film, Ewan McGregor and Emily Blunt spend most of the film smiling at each other. They are very good at doing that. The actual story is about fly-fishing in the country of Yemen, but again, don't pay too much attention. This is the perfect choice when feeling tired. No matter how many times one dozes off, Blunt and McGregor will be there again, smiling and enjoying each other as much as the viewer enjoys them.
Fast Five
Let's say Taken just isn't #squad enough for a given flying experience. The solution is a simple one: Fast Five. This is the right viewing choice if flying seems just too boring. Feel the adrenaline as Vin Diesel and his crew plan and execute the caper of a lifetime. This was the first Fast and Furious film to include a heist element, and like Taken's emotional stakes, it's what prevents Fast Five from feeling like empty calories easily ignored. The intrigue of the plan — a fight against a Brazilian drug lord — proves engrossing.
13 Going on 30
Sometimes, it's impossible to avoid getting stuck between two really obnoxious passengers in a middle seat. Follow after Jenna Rink, Jennifer Garner's character in this 2004 romantic comedy, and think of being elsewhere. Except, instead of wishing to be 30, just wish for a window seat — or to be doing the "Thriller" dance like Jenna.
Mission: Impossible — Ghost Protocol
If a bit of propulsive fun is one's personal antidote for flying anxieties, Mission: Impossible — Ghost Protocol is exactly the right dose. Directed by The Incredibles helmer Brad Bird, Ghost Protocol brought a cartoonish element to the Mission: Impossible series. With Tom Cruise, Paula Patton, Simon Pegg and Jeremy Renner as the core team, anything feels possible. Combine with a plot about seeking to better their organization's reputation, and voila: a great mix of story and action. Make sure not to use the bathroom during the spectacular building-scaling sequence, though.
A Few Good Men
If Cruise is the right ingredient but action the wrong base, turn your attention to A Few Good Men instead. This Aaron Sorkin-scripted film shows the writer at his best: witty, sharp and well-performed. The dramatic stakes are high in A Few Good Men: Cruise is a military lawyer trying to save two soldiers from an unfair court-martial. It features a bravado performance from Jack Nicholson, too. Just make sure you don't watch with any children in the vicinity — it may be a bit too intense for them.
Spy
Spy is the newest film on this list, but even watching it in a theater, it's evident exactly how ready-made an airplane movie it is. The first half is slow and feels like watching a bad Melissa McCarthy movie that relies primarily on jokes about her appearance. The second half is defiantly feminist and hilarious, using the expectations set up by the first half to totally subvert what viewers think the movie will be. Use the first hour to get settled in — then pay close attention in the second.
Secretariat
Underdog sports stories and movies about animals both tend to work on airplanes. They're dramatic and compelling, but never too explicit. The perfect combination, then, is Secretariat, the story of the race horse starring Diane Lane. Unlike Seabiscuit, the 2003 horse-racing true story, this one's a family-friendly Disney movie. It's heartwarming fluff, and sometimes fluff is all that's necessary to get from point A to point B on a plane.
Gosford Park
Fun fact: English films make for prime in-flight viewing. They're stately pleasures; think The Queen, The King's Speech and Gosford Park. The last of those is particularly effective, for Gosford Park is filled with juicy secrets and delicious drama. The ensemble is incredible — Maggie Smith, Kristin Scott Thomas, Clive Owen, Bob Balaban and Oscar-nominated Helen Mirren — and it's one of legendary director Robert Altman's final films. Haven't seen it? The next flight may be exactly the right time to visit the Park.