'America's Next Top Model' Has Been Canceled After 22 Seasons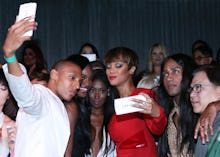 This season of the CW's America's Next Top Model will be its last, retiring model Tyra Banks' catchphrase, "You're still in the running towards becoming America's next top model," after a 22-season run.
The 12-year series, which documents young models competing for a high-profile modeling contract, will see its final episode on Dec. 4, the CW confirmed on Wednesday. The network is reportedly discussing airing a retrospective episode in 2016, the Associated Press reports. 
Banks has hosted the show, which airs in more than 150 countries and has generated 40 spinoffs worldwide, and served as one of its executive producers along with Ken Mok since its premiere in 2003. The former supermodel tweeted that she "truly believes it's time" for the show to end, reminding fans to keep "smizing," a word Banks has used on the show, meaning "smile with your eyes."
"America's Next Top Model was a successful franchise for two networks, first at UPN and then the CW, and it became not just a ratings hit, but a global pop culture phenomenon," CW president Mark Pedowitz wrote in a statement on Wednesday. "I want to thank Tyra and Ken or all their years of success in establishing a show that was not just popular in the U.S., but all across the world."
Fans are sharing their heartbreak on Twitter:
Lacey Claire Rogers, one of this season's contestants, is grateful she made it on the show in time:
In its glory days, America's Next Top Model was the highest-rated show on its network and launched the careers of model and reality TV star Adrianne Curry and actress and model Analeigh Tipton, among others. 
The show's viewership has deteriorated throughout the past several seasons, declining from a steady 5 million viewers for seasons one through nine to 1.7 million viewers in 2013, the Atlantic reports. 
The Atlantic's Adrienne Raphel blames the show's transition from a transparent modeling contest to a branding social media-driven spectacle. "Now, it's a hashtag-heavy, emoji-laden battle of the brands," she writes. While this reflects the growing relationship between social media and television, Raphel writes that it "detracts from the fun, insular fantasy world America's Next Top Model worked so hard to create."
Banks also may be prioritizing her new ABC talk show, FABlife, which she hosts along with newly pregnant model Chrissy Teigen. The show debuted in September as the No. 1 freshman talk show among women 25 to 54 on the Nielsen charts.