Taraji P. Henson On "Freeing" Photo Shoot: Our Hair Does Not Define Us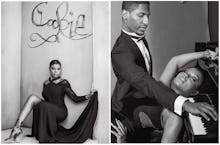 Taraji P. Henson just keeps on slaying. 
The Empire actress took to her Instagram on Wednesday to debut her latest photo shoot, for CR Fashion Book, in which she ditches her wig, leaves the weave and shows off her natural hair braided into cornrows for the first time in her career. The images, taken by famed photographer Bruce Weber, are simple and stunning — but for Henson, they're making a brave statement laden with personal meaning.
"As women we put sooooo much emphasis on our hair!!!" Henson wrote in a caption. "As if hair defines beauty? I am always so grateful for women who are FREE AND BOLD enough to cut it ALL off." 
The decision was not an easy one to come to, the Emmy-nominated actress wrote in a previous Instagram post.
"Just imagine being asked by WORLD-RENOWNED photographer #BruceWeber to shoot you in your WEAVE/WIG STATE hair?!?!" Henson wrote on Instagram. "I wanted to say 'HELL NO' but I decided to trust art and the process." 
In the CR Fashion Book article, which Henson penned, she elaborates on her doubts and how Weber convinced her to make the plunge. 
"So I'm trying on the clothes and the silk scarf I have on my head slips off, and I say, 'Hey, look at my cornrows, aren't they beautiful?'" she wrote. "Bruce Weber is standing there and he goes, 'We'll shoot that.' And I go, 'What? We'll shoot what?' And he says, 'We'll shoot your hair just like that, it's beautiful.'" 
"This is like behind-closed-doors hair," she wrote. "I feel naked. I feel like a plucked chicken... or a wet one. A baby chicken! But Bruce says to me, 'It's not about the hair, it's your face.'"
"As an actress that's what we do," she concluded. "We are vulnerable every time we put our art out there. Underneath that hair is my soul, and it's me, it's mine."
That vulnerability is compounded by societal beauty standards that judge women's hair, particularly women of color. Black women have long been using everything from chemical relaxers to lace-front wigs to achieve certain hairstyles, in lieu of going "natural." But lately, more and more women are deciding to leave it be. 
In 2014, Viola Davis made waves after stripping off her makeup and her wig during a pivotal moment in her hit ABC show How to Get Away With Murder. She followed it up by appearances at the Oscars and SAG Awards with natural hair. The response was fervent, and illustrated how bold of a move it still is for African-American women in the public eye. 
In her Instagram post, Henson made a point to use the hashtags #MyHairDoesNotMakeMeBeautiful and #IAmNotMyHair, taking a much-needed stance on what can constitute a beautiful, powerful image of a woman. Although she insists that she'll never be able to cut it all off, these stunning pictures tell a different story. 
h/t Glamour