Oscar Pistorius to Be Released From Prison On Oct. 20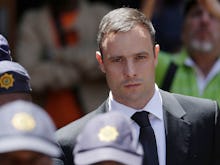 South African Paralympic runner Oscar Pistorius will be released from prison Oct. 20 after serving less than a year for the shooting death of his girlfriend Reeva Steenkamp. The 28-year-old will serve the rest of his five-year sentence under house arrest, BBC reports.
The professional athlete was convicted of culpable homicide in 2014 after shooting his girlfriend on Valentine's Day, a killing he says was unintentional after thinking he heard an intruder in the couple's home in South Africa.
Although it was announced in August that Pistorius would be leaving prison early, CNN reports legal experts had been anticipating an early release ever since the "Blade Runner" was sentenced in October 2014. Under Pistorius' sentencing, a parole board is given the opportunity to place a convicted prisoner under house arrest after completing one-sixth of their sentence, so long as the inmate doesn't pose a threat to society. 
"I made a mistake," Pistorius said in his murder trial for the February 2013 shooting. "Out of fear, I didn't have time to think, I discharged my firearm. ... When I heard a noise inside the toilet, without thinking in fear I fired four shots... Reeva had died while I was holding her." 
Steenkamp's family is fighting back, saying Pistorius shouldn't be allowed to serve the rest of his sentence from home. In a letter addressed to the court's parole board, her parents write, "Incarceration of 10 months for taking a life is simply not enough," according to CNN. "We fear that this will not send out the proper message and serve as a deterrent it should."