Kate Hudson Is All of Us Getting Trapped in Her Dress in the Bathroom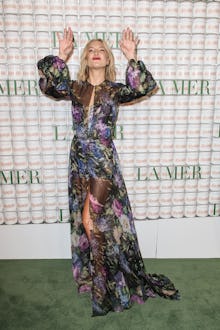 All Kate Hudson wanted to do was use the ladies' room. Her dress for the evening would make that a challenge.
At an event Tuesday night held by the skincare company La Mer, Hudson found herself in the bathroom struggling with her beautiful dress. The problem? The long, floral gown seems to come with a pair of booty shorts underneath (or perhaps it's a bodysuit with the skirt attached?). Layers — they're complicated.
Hudson went from looking stunning like this:
To looking like this:
In typical Hudson style, she took it in stride, snapping a photo for Instagram and captioning it: "When you can't get out of your dress whilst trying to go.... #MamasNightOut." Judging from the photo, it looks like she needed some help from her gal pals to succeed.
Hudson, we've been there. And we feel your pain.
Who hasn't worn a lovely dress, with the right heels and the picture-perfect makeup, only to find themselves utterly trapped and tangled in it later. Simple trips to the bathroom are delicate balancing acts, putting on a jacket at the end of the night becomes a Houdini stunt — all things we could have predicted judging from the confusing, 12-step process it took to try on the damned thing in the dressing room in the first place. 
The good news is Hudson seems to have enjoyed the rest of her night with her mega-babe friends Gwyneth Paltrow and Nicole Richie. When we get trapped in a garment, what you really need are kind friends to pull you out (and not laugh at you... too much). 
Oh, and a healthy reminder that sometimes, that picture-perfect dress is really just that: picture perfect.