Tesla to Roll Out Autopilot Driving on Model S Cars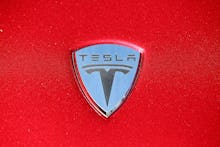 Luxury electric car company Tesla Motors just offered Model S drivers in the United States a serious upgrade, one that could help Tesla gain ground on Google in the race to develop next-generation smartcars. The Palo Alto, California, automaker is introducing autopilot capabilities to its newer Tesla Models S via a software upgrade, the company announced Wednesday. 
Available in wide release on Thursday, the Tesla Version 7.0 software update enables hands- and feet-free driving and parking, creating a hybrid between a manually operated and a self-driving car. Elon Musk, Tesla CEO and the automaker's biggest investor, took to Twitter on Sunday to tease the self-driving features.
A push for self-driving cars: For the past year, Tesla Motors has been building hardware into its Model S vehicles that can support the rollout of self-driving technology. Specifically, to drive itself, a Model S would need to be equipped with front- and back-facing cameras, 12 long-range ultrasonic sensors that can detect objects within a 16-foot radius of the vehicle and a digitally controlled electric brake system that can be activated at will. 
"We're being especially cautious at this early stage," Musk told reporters on Wednesday, according to Bloomberg. "Over time, there will not be a need to have your hands on the wheel. The software is very new, and we have to explicitly describe it as beta. In the long term, people won't need hands on the wheel, and eventually there won't be wheels or pedals."
In a way, the upgrade inches drivers closer to a world where more cars on the road are self-driving, or at least sport advanced autopilot features, without accelerating the transition too rapidly. 
The buildup to driverless cars has been decades in the making. As far back as 1958, General Motors was experimenting with scaled models to see if a vehicle could sense wires in the road to navigate the car, according to Wired. Those experiments led to a series of investigations, trials and errors on how to invent a futuristic smartcar. Google was leading the pack by 2010, after the tech giant debuted its line of autonomous Toyota Prius cars. 
"We're building Autopilot to give you more confidence behind the wheel, increase your safety on the road and make highway driving more enjoyable," the Tesla Motors team wrote in a blog post. "While truly driverless cars are still a few years away, Tesla Autopilot functions like the systems that airplane pilots use when conditions are clear. The driver is still responsible for, and ultimately in control of, the car. What's more, you always have intuitive access to the information your car is using to inform its actions."
Test drive: On Wednesday, Jalopnik reporter Michael Ballaban took Tesla's autopilot system for a test drive, an experience he described via YouTube as "super weird and super fun." Buckled in behind the wheel and not driving the car, Ballaban seems more than a little uneasy.
The Tesla Motors Team emphasized that with the Version 7.0 software updates, drivers are still very much in charge, and that the autopilot features simply offer relief from the "tedious and potential dangerous" aspects of driving. The team at Tesla also hinted that it's developing other new capabilities it plans to deliver via software updates. In the meantime, check out the footage below as a reporter squirms his way through a Tesla Autopilot test drive.