Lamar Odom Is Still Hospitalized. Here's What We Know About Former NBA Player's Condition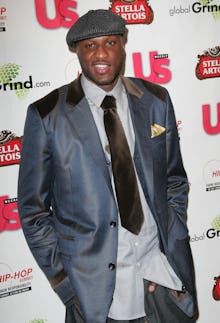 Lamar Odom is reportedly on life support and fighting for his life in a Las Vegas hospital after he was found unconscious Tuesday afternoon in a Nevada brothel, according to CNN. Reports indicated that the 35-year-old former NBA player had been using cocaine in the days leading up to his hospitalization and had also taken up to 10 pills of "herbal viagra," a supplement known by the United States Food and Drug Administration to contain harmful ingredients to the body, according to local police. 
What we know: In an interview with CNN anchor Don Lemon, brothel owner Dennis Hof says Odom had been staying at the Love Ranch, a legal Nevada brothel in operation for over 60 years, for free in a VIP suite and was partying with the Ranch's employees since Saturday while trying to "escape from his daily life." 
Odom, who is the estranged husband to reality star Khloe Kardashian and starred in the E! network show Khloe & Lamar, remains hospitalized in critical condition, according to US Weekly. Odom's wife, father, two children, Jesse Jackson and fellow basketball players have visited him at Sunrise Hospital since he was admitted Tuesday afternoon, according to CNN. 
Nevada's Nye County Sheriff's department held a press conference on Wednesday afternoon to discuss the details of the events that took place Wednesday was found unresponsive at the Love Ranch. The county sheriff also released the 911 tapes from two female Love Ranch employees, as well as the brothel's spokesperson Richard Hunter, which reveal Odom had red fluid coming from his mouth and nose as well as a white substance on his face. Yahoo News reports the sheriff's county is testing Odom's toxicity levels through a blood sample collected from the former NBA player,which should reveal further details surrounding his current condition.
His friends and colleagues have taken to social media to express their support for Odom:
This isn't the first time Odom has faced substance abuse issues. The basketball player entered rehab in 2013 after Kardashian filed for divorce, according to ABC. Odom told TMZ Sports in November of that year he didn't want substance abuse to be his "legacy," and was focused on getting back into basketball.