This Guy Had the Best Reaction to Sexy Photoshopped Boudoir Photos of His Wife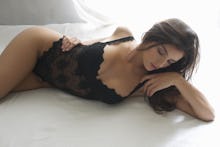 Some couples keep the spark alive by going on romantic dinner dates, or using toys in the bedroom. Others hire photographers to take expensive boudoir photos, or titillating shots of women posing suggestively in their bedrooms while decked out in lacy lingerie (and/or nothing at all).
While boudoir photos are typically meant as a wedding gift, sometimes they can just be a surprise, which is what one San Antonio woman had in mind when she hit up local photography studio Victoria Caroline Boudoir last year to commission photos as a Christmas gift to her man. When the photos turned out differently than the couple expected, the saucy Christmas present turned into a heartwarming lil' tale of love, marriage and how important it is to celebrate your partner's imperfections. 
As photographer Victoria Caroline Haltom told Mic, it started when her client (who is a public figure in San Antonio and wishes to remain anonymous) requested an array of touch-ups to cover up what she perceived as physical flaws. Haltom obliged, and then received an email from the woman's husband three days after he received his sensual holiday treat.
"I don't want you to think that I am in any way upset with you... but I have some food for thought that I would like to pass on to you," he wrote in the email, which Haltom has posted to the Facebook page for her business. "While [these pictures] are beautiful and you are clearly a very talented photographer, they are not my wife."
He went on to list the body parts that were retouched, and why he wasn't a fan of the Photoshop job. 
"When you took away her stretch marks, you took away the documentation of my children," he wrote. "When you took away her wrinkles, you took away over two decades of our laughter, and our worries. When you took away her cellulite, you took away her love of baking and all the goodies we have eaten over the years."
The man concluded by thanking Haltom for inspiring this epiphany, as the stark difference between the woman in the photos and his IRL wife made him "realize that I honestly do not tell my wife enough how much I LOVE her and adore her just as she is. She hears it so seldom, that she actually thought these Photoshopped images are what I wanted and needed her to look like. I have to do better, and for the rest of my days I am going to celebrate her in all her imperfectness."
While the retouching debate is typically reserved for celebrities and members of the media, who have been criticized for promoting unrealistic beauty standards via overly Photoshopped images, this story illustrates that not all of us are turned on by digitally altered waists and twig-thin thighs. It's a refreshing reminder to all of us that at the end of the day, we should embrace everything about our partners' bodies, flaws and all.
And it has also given Haltom a renewed mission in her work.
"Never before have I gotten that reaction about retouching, but it definitely changed my view on it," Haltom told Mic. "My job isn't to alter clients, it is to encourage them to find beauty in their bodies exactly as they are."
h/t MySanAntonio.com