Joe Budden's New Album 'All Love Lost': Online Streaming Options and Lyrics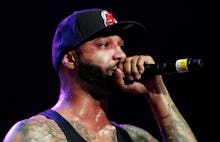 "Top of the World" veteran rapper Joe Budden is apparently feeling very generous as he started streaming his new album All Love Lost for free on Thursday, a day before its official release.
"I worked effortlessly on this album and I hope that it shows," Budden told Complex magazine on Wednesday. "Listen to it, grasp it, digest and understand it, and once you do my only hope is for you to feel something. Whether that feeling is love, hate, etc. But as long as you feel my goal is accomplished. Besides, music is just what feelings sound like."
Fans have been anticipating the hip-hop artist's third album since his sophomore album No Love Lost in 2013, and Budden is giving them the chance to sample his latest album's 11 tracks on SoundCloud. The album can be pre-ordered on iTunes as well. 
The album's title is telling. Budden has struggled with on-and-off depression, which he manifests in the album's intro. "I mean I can't stop my brain from imaginin' death," he raps. "Then out the clear blue sky I cry random tears/ Used to it, me and depression have been tandem for years." 
The album's full lyrics can be found here. 
Budden opened up about his troubled past that inspired the emotion in his music in an interview with Complex in 2014. "My whole life has been filled with therapists, psychiatrists, psychologists, hospitals, jails, youth houses, drugs, fucking life coaches, all of this shit," he said. "It's all been just help since a very young age."
"People don't get help, or they wait until they are in some fucking life and death emergency rock bottom type of situation before they ask for help or realize they need help. A lot of people lack self-awareness in that way. I am very aware of exactly who I am."