"'Homeland' Is Racist': Graffiti Artists Sneak Anti-'Homeland' Messages Onto the TV Series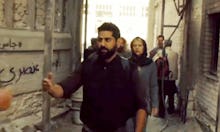 Homeland, now in its fifth season on Showtime, is no stranger to criticism. What is new, however, is criticism coming from within the show itself.
As reported by Deadline and the Guardian, graffiti artists hired to add designs to the set of Homeland included messages calling out the show. The bluntest of them simply says "Homeland is racist" in Arabic. The images aired on the Oct. 11 episode of the show, the second of this season.
In a statement released on their website, the artists, Heba Amin, Caram Kapp and Stone, explained why they chose to "hack" the series. "Homeland has maintained the dichotomy of the photogenic, mainly white, mostly American protector versus the evil and backwards Muslim threat," they write. They also said the series was filled with "gross misrepresentations of the cities of Beirut, Islamabad- and the so-called Muslim world in general."
The producers apparently reached out to a graffiti artist friend of the team's about doing design work. When they learned of it, they were skeptical. "Given the series' reputation we were not easily convinced, until we considered what a moment of intervention could relay about our own and many others' political discontent with the series," they said. "It was our moment to make our point by subverting the message using the show itself."
The messages ranged from disowning the series — "This show does not represent the views of the artist" — to the political. One even used the #BlackLivesMatter hashtag. Another called the show "watermelon," apparently slang for something that is "a sham."
Homeland showrunner Alex Gansa was reluctantly impressed. "We wish we'd caught these images before they made it to air," he told Deadline. "However, as Homeland always strives to be subversive in its own right and a stimulus for conversation, we can't help but admire this act of artistic sabotage."
The graffiti and statement may motivate Homeland's producers to make a change they've been mulling for some time: shifting the focus away from Islamic and Arab terrorists. 
"We're not necessarily going to stay now and forever [focusing on] U.S. relations in the Muslim world," Showtime president David Nevins said at the show's Television Critics Association panel, according to Entertainment Weekly. "We're exploring a few different possibilities and may change it up a little bit."