Science Has Good News for People Who Are Bilingual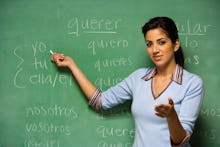 Dios mío! 
According to a new study published jointly by the Civil Rights Project at the University of California, Los Angeles, and Educational Testing Services found that children of immigrants who were raised speaking, reading and writing both English and another language at home could expect to earn between $2,000 and $5,000 more annually than children who speak only English.
And the news gets better. Those with proficiency in two tongues, which the study classified as "balanced bilinguals," also had a greater chance of pursuing higher education and having better-paid work and more diverse social networks, NBC News reported.
"We live in a globalizing world," the study's author Patricia Gándara told Mic. "Our interconnectedness can be our strength as a nation, but we are far behind other developed nations in our ability to communicate across linguistic and cultural lines."
Gándara, who is also a research professor at UCLA, said she was surprised by the findings given a multiplicity of previous studies showing that bilingualism was detrimental. "Bilingualism among the children of immigrants in the United States represents a previously untapped national resource," she ultimately concluded in the study. 
Past skepticism notwithstanding, the new finding is the latest in a parade of recent good news for bilingualism and its proponents. In 2012, researchers at York University in Canada concluded that bilingualism slowed the development of dementia, and children who were bilingual were better as transitioning between tasks. Around the same time, sociologists at Rice University published findings showing that bilingual immigrants reported being physically and mentally healthier than their monolingual counterparts. 
While the benefits of bilingualism are increasingly evident in a multicultural and interconnected world, it wasn't long ago that parents and educators were openly hostile to the idea. 
"I did actually used to speak Tagalog," Jake Manabat a first-generation American whose parents immigrated from the Philippines, told Mic. Manabat, a New York-based actor, said his parents abruptly stopped his bilingual education after being advised to do so by an elementary school teacher. 
"When my parents had their very first parent-teacher conference, the teacher told my parents that my English was heavily accented and encouraged my parents to speak only English to me so I wouldn't grow up with an accent. So we stopped speaking Tagalog at home and spoke only English," Manabat said.
Today, however, with more than a dozen high-end language-immersion summer camps offered in New York City alone, it's clear that parents have gotten the message and the days of monolingual-only are over.