Ever Wonder Why There Are So Many "Sexy" Halloween Costumes? Here's Why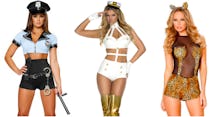 Just when you thought Halloween costumes couldn't get any "sexier," there's this: the Sexy Green Poop Costume. 
Because why not, right? 
The idea for a "sexy" green poop costume came about as a joke, Troy Eaves, the vice president of marketing for HalloweenCostumes.com, told Mic. The staff at Halloween Costumes was brainstorming ways to revamp the good ol' poop costume for our viral times and was inspired by a trending story of a new Burger King Whopper that supposedly turns your poo green. The result was a DIY burger-and-green poo couple's costume with, of course, a "sexy green poop" outfit for the woman.
If there's any sign "sexy" Halloween costumes for women have peaked, green poop might be it. Sexy-fied versions of any and every female costume have become as ingrained in our Halloween traditions as trick-or-treating. But it wasn't always this way — in fact, up to about 15 years ago, "sexy" costumes weren't the Halloween norm.
"It's a whole evolution, I think, as far as the female costume goes," Richard Parrott, president of the beauty supply chain store and costume retailer Ricky's in New York City, told Mic.
So how did we reach such heights (er, depths) of absurdity — and could it be that these costumes are actually on the decline?
When "sexy" became the norm: Once upon a time, "sexy" was itself a costume. Up until about 2000, there were more modest options for store-bought costumes. For decades, a woman could just, you know, dress up. 
"Women would dress up as Minnie Mouse, but there wasn't a 'sexy' Minnie Mouse," author and Halloween expert Lesley Bannatyne told Time. 
The turn toward adult-oriented costumes happened in the 1970s, and even then the options were narrow. If a woman wanted to dress "sexy" for Halloween, she was pretty much limited to a French maid or a sexy nurse costume, Amanda Hallay, a professor teaching fashion history at LIM College in New York, told Mic.
"You were going as a 'sexy' person, your costume was a sexy person," Hallay said. "But now every costume is sexy." 
The shift toward skimpy Halloween costumes took off when pop culture as a whole began embracing a barely there fashion aesthetic, Hallay said. This was the era of low-rise jeans, miniskirts, babydoll tops and bandage dresses. Celebrity fashion led the way, inspiring a new wave of costumes, Hallay said. When Britney Spears debuted her single "Baby One More Time" in 1999, she also inspired a new Halloween costume: the sexy schoolgirl.
Things only got shorter, tighter and riskier. Manufacturers started designing a wider variety of costumes for women that showed more skin than they covered. Bustiers, fishnet stockings and miniskirts became the norm.
"Basically for somebody to be 'sexy' out there, you had to wear very little clothes," Parrott said. "That's really what it was about. You wore the shortest thing possible, the tightest thing possible, and that's what was available."
While women might try to dress in a sexy way year-round, Halloween is on another level, Halley said. Part of the reason is the judgment-free attitude and the "pass" everyone gets on the holiday.
"No one is going to think too badly, because it's Halloween and it's allowed," Hallay said. See: Mean Girls.
You know we've reached peak with "sexy" lobsters: As the early 2000s rolled out, "sexy" Halloween costumes started going to the extremes in terms of how revealing they were. By the end of the decade, though, the costume concepts started changing, Parrott said. 
The classics were still there: sexy versions of police, pirates and firefighters. But they were eventually overshadowed by a new wave of sexy-fied versions of animals, inanimate objects and pop culture references.
New online retailers propelled a wave of popular Halloween costumes that marry ridiculousness with sexy. Among the most popular retailers is Yandy.com, which started in 2005. The company has brought the world costumes like  sexy pizza, sexy lobster and this year, sexy Donald Trump. 
Yandy currently has more than 4,000 costume options, which range from the avant-garde to pop culture references, like a sexy Pizza Rat. According to Bloomberg BusinessWeek, Yandy expects to make $15 million this year from costume sales. 
"We're just trying to make fun costumes that when people walk into a party [wearing one], they're gonna get noticed, they're gonna get attention," Yandy CEO Chad Horstman told Maxim. "Hopefully they'll win a contest. That's kind of our goal."
That means going the next step to make even the unsexiest things sexy, to make a hilariously memorable point. Yandy, for what it's worth, is in on the ridiculousness.
It's "supposed to be funny," Horstman told Maxim. "If you didn't realize that a sexy lobster is funny, come on. If you didn't realize that a sexy slice of watermelon is funny, if you don't realize that a sexy hamburger is hilarious, or that a sexy pizza slice is just so funny, like... I don't know."  
Sexy costumes are now in a downswing: Funny as they may be, they're also totally ridiculous and exhaust the "women as sex objects" norm. As Slate's Amanda Hess wrote in 2012, "When I see women dressed as sexualized fast-food sauces, I don't know whether to laugh or cry. In the new Sexy Halloween economy, the line between sexy and ironic appears to have evaporated."
As it turns out, the "sexy" costume era peaked right around that time and has been in decline since. Part of the reason is public outrage and media scrutiny, said Parrott. It didn't help that some sexy costumes seemed utterly tone-deaf (see: 2014's "sexy" Ebola costume). 
The biggest cause for the downturn might be a shift in culture (thanks, feminism!). These days, people are more aware of social issues, including the hypersexualization and objectification of women, and are less inclined toward one-dimensional costumes, Eaves said. 
"So when a woman is only portrayed as 'sexy,' people might rethink that more than they used to," Eaves said. 
And thus, a downswing. A few years ago, an industrywide switch saw manufacturers designing higher-quality costumes that weren't quite as revealing, Parrott said, and retailers have stocked their stores duly. 
Shoppers seem less interested in them overall too; Google searches for "sexy Halloween costumes" costumes peaked in 2008 and have been on the steady decline ever since. 
Now on HalloweenCostumes.com, you'll find the variety of Wonder Woman costumes — among the top seller on the website for years, said Eaves — with "more coverage" options for women, including long-sleeve and T-shirt versions.
Even better news: The change seems to have brought not just a turn away from excessive sex appeal, but toward  a more empowered female theme. Halloween costumes tend to take inspiration from pop culture, including TV and movies, which, incidentally, have plenty of strong female leads these days. Hence more costumes channeling Katniss from Hunger Games or Daenerys from Game of Thrones, for example, Parrot said.
"You can just be powerful and sexy," Parrott said.