This Powerful Politician Is Lobbying Congress To Make Reporting Assault More Difficult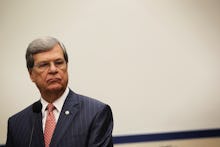 Former United States Senate Majority Leader Trent Lott — who has previously made segregationist comments and likened homosexuality to alcoholism and kleptomania — is entering the campus sexual assault debate. The former politician was hired to lobby for the Safe Campus Act, which is supported by national fraternity and sorority groups but adamantly opposed by anti-sexual assault activists, the Huffington Post reported Wednesday.
The Safe Campus Act: "The current system of investigating and adjudicating allegations of sexual assault on campus is broken," Lott wrote in a Washington Post op-ed co-authored with lawyer Cleta Mitchell earlier this month. The Safe Campus Act, they argued, "would provide interim measures to improve student safety, due-process protections for students and student organizations, and for more education to prevent such crimes."
The bill would also require survivors to report incidents to law enforcement agencies and for these agencies to conclude their own investigations before schools can get involved, Ms. magazine reported in September — a requirement with which many anti-sexual assault advocates and activists take issue.
Why it's a problem: Requiring survivors to report fails to account for the many reasons survivors cannot or do not want to involve police. For a variety of reasons, 68% of sexual assaults go unreported, according to Rape Abuse and Incest National Network, which cites a Justice Department study. 
The reporting process can re-traumatize survivors, as many face disbelief and being blamed for their own assaults, and many states' laws still don't offer equal protection for certain victims, like those whose assailant is the same sex as them, or male survivors. What's more, reporting is a particularly fraught experience for many survivors based on their own identity: Survivors who are also immigrants, people of color or LGBTQ have their own challenging experiences and histories with law enforcement.
"Many survivors choose not to go to the police simply because nothing in the criminal justice process is set up to support them as survivors," Dana Bolger, founding co-director of the national, student-driven campaign to end campus sexual violence, Know Your IX, told Mic in April.
Activists are fighting back. Plenty of campus-based activists are fighting the act and efforts to promote it. Know Your IX launched the hashtag #UnSafeCampusAct to counter it, for example, and other activists — like Julia Dixon of PAVE: Promoting Awareness, Victim Empowerment and Matt Leibowitz of Consent is So Frat — have launched Change.org petitions countering the legislation.
Additionally, Sen. Barbara Boxer (D-Calif.) and Rep. Susan Davis (D-Calif.) have sponsored the Survivor Outreach and Support Campus Act, which many — like Lisa M. Maatz of the American Association of University Women — are pointing to as an empowering alternative to this legislation. 
"I, along with scores of other Greeks, activists, undergraduates and administrators, feel that what we have seen is counterproductive to the conversation about eradicating sexual violence," Dixon told Mic of the Act in an email in April. Ultimately, she concluded, the Act "will result in fewer survivors reporting to anyone at all, and more perpetrators flying under the radar due to the fear survivors have of reporting."
While Lott's impact remains to be seen, it's clear the Act won't be passed without a fight.
h/t Huffington Post