This Woman Got Gorgeous Tattoos to Reclaim Her Body After Breast Cancer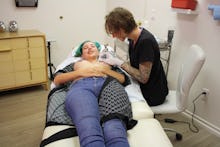 After receiving a double mastectomy at age 23, breast cancer survivor Nikki Black reinvented her body's feminine uniqueness in a bold way — by tattooing each breast with a design inspired by her zodiac sign.
In an article for XO Jane, Black, who lives in Los Angeles, wrote she had her breasts tattooed in September after a friend connected her with the Santa Clarita, California, tattoo shop The Gilded Lily. Black's tattoo artist and owner of the shop, Holly Feneht, is associated with P.ink, an organization that connects survivors of breast cancer with tattoo artists. The organization's slogan: "Breast cancer doesn't have to leave the last mark." 
After a consultation, Feneht sent Black an intricate design inspired by her Pisces birth-sign. "When she sent me the final design for the tattoo, it was so beautiful I almost cried at my office desk," Black wrote for XO Jane. She described the tattooing process as "like therapy, a surgery for the soul."
Black was just starting to pursue her career in Philadelphia when she was diagnosed with breast cancer, she wrote for XO Jane. The illness became a physical and mental struggle that left her afraid to ask for help, she wrote. 
"When I did ask for help, it was disastrous," she wrote. "A chemo session turned into a nightmare as I tried to express to my oncologist the depression I was experiencing." 
Black wrote when she first announced her breast cancer diagnosis on Facebook, where she was inundated with questions and negative comments about her anticipated mastectomy. "I received messages saying things like, 'Those were my second-favorite pair of boobs in Philly,'" Black wrote. Black wrote she felt like her body was "on the chopping block" before she even underwent surgery. 
In the midst of battling the disease, Black moved to Los Angeles in search of a fresh start but learned "you can't move away from yourself," she wrote. After more than six months, Black decided it was time to reclaim her happiness, she wrote.
Instead of pursuing fetish porn, which she wrote someone actually suggested to her, she decided to reinforce her dignity in a striking and creative way.
Aside from reclaiming her body, Black wrote the experience reinforced her sense of trust. "It seems appropriate, now, to have a collaborative effort on my body," she wrote. "[It's] a reminder to open myself up to trusting others and give myself over to a support system."