Hendo 2.0 Hoverboard: Price and How Arx Pax's Levitating Skateboard Works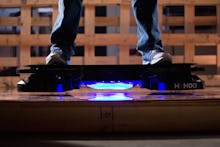 Hendo 2.0 is the latest levitating piece of machinery from Silicon Valley tech company Arx Pax. The hoverboard, which uses magnetic technology to lift the rider above the ground, is only being given to 10 people in its first release on Wednesday, San Francisco Gate reports. 
In a successful Kickstarter campaign, the company raised over $500,000 to build its first prototype, Wired reports. Arx Pax promised 10 donors — who each gave $10,000, according to SFGate — the newest version of the board once it was ready. "One of the things we realized was that with our first generation hoverboard we made a large deck ... [which] gave people the opportunity to put their feet in the wrong place," Arx Pax CEO and co-founder Greg Henderson told Wired. "We're using visual cues to make it operate as much like a skateboard as we can." Arx Pax had help from famed professional skateboarder Tony Hawk in designing the board. 
The company tells Gizmodo Hendo 2.0 is thinner, lighter and easier to use than its predecessor. However, both gadgets use something called "magnetic field architecture," a technology the company says on its LinkedIn profile it created.
Although the hoverboard hasn't yet been unveiled, the board does sound like something more similar to what Hawk would ride compared to the original Hendo, which was heavier and harder to steer, Gizmodo reports. 
Henderson told Wired, "If you want to turn right on a skateboard, you lean to your right, and the trucks rotate slightly. And that little bit of rotation changes our force vectors. Skateboarders understand how trucks work, so essentially our Kickstarter backers will be able to modify them and change the trucks to their liking for harder or softer turning radiuses."
However, except for the hefty price tag and limited release, there is another catch: The hoverboard only operates when used over a conductive surface. In order for the board to actually work, it needs to be placed on top of an area that will conduct the magnetic technology, like a copper-plated floor. 
"We are looking for those early adopter-visionaries to partner with," Henderson told Gizmodo, referring to potential partners who may be able to provide the research needed to make the hoverboard work on any surface. "It's not a question of 'if' this will happen, but 'when.'"