Demi Lovato 'Confident' Album: Streaming, Download Options and Lyrics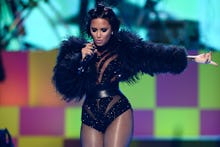 On Friday, prolific 23-year-old vocalist Demi Lovato released her fifth studio album, Confident — a record that could be the pop-rock musician's most revealing project so far. As the followup record to 2013's Demi, Confident is a long time coming.
The Dallas, Texas, native-turned-Californian is responsible for no shortage of chart-topping tracks in recent months. She earned particular exposure for her summer-takeover track, "Cool for the Summer." In keeping with the theme of the album it was written for, Billboard argued in July that the summer song is "undeniably the pop star's most self-assured statement to date." 
With 15 tracks in total, two of which boast appearances from Iggy Azalea and Sirah, Confident promises to keep Lovato centered in the public eye. 
Streaming and download: On Friday, fans will be able to stream the full album in advance of its release via iTunes and on Spotify. Lovato put three tracks — "Confident," "Stone Cold" and "Cool for the Summer" — up for public consumption. A music video for "Confident" surfaced last Friday, a week before the record was scheduled to surface. 
Lyrics: Lovato affirms her independence and the right to rebel time and again on "Confident," the album's title track, but the majority of the song's lyrics repeat the question/motto, "What's wrong with being confident?"
"I used to hold my freak back," Lovato sings. "Now I'm letting go / I make my own choice/ Yeah I run this show / So leave the lights on / No, you can't make me behave," she adds. 
In the lead up to the album release, Lovato took to Twitter to spread this mantra. The musician also used the social channel and a stage to break down some of the tracks on Confident and spell out their symbolic significance. 
"I love singing to soulful music, and that's something I want to show on this album," Lovato said of "Stone Cold." On what inspired her to write "Stone Cold," she added, "I have songs that I've written specifically because there wasn't anything out there that I could relate to on that level and I know other people needed that song as well."
Lovato calls "Kingdom Come," the record's fifth track and the cut that features Iggy Alalea, a "vey sexy song." 
"I have been close with Iggy for about a year now," Lovato said on Twitter of the collaboration. "If you're going to collaborate with people on your album, I want to know them, I want to have a personal relationship with them."
Head to Lovato's homepage to stay informed about tour dates and check out the tracklist for Friday's release below. As an added bonus, watch the Technicolored music video for Lovato's summer anthem and dream of warmer days.
Confident Tracklist:
1. Confident
2. Cool for the Summer
3. Old Ways
4. For You  
5. Stone Cold
6. Kingdom Come (featuring Iggy Azalea)
7. Waitin for You" (featuring Sirah)
8. Wildfire"
9. Lionheart
10. Yes  
11. Father