The Game 'Documentary 2.5' Album: Streaming, Download Options, Lyrics and Tracklist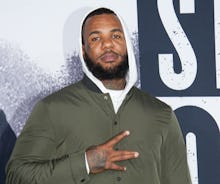 "My Life" rapper The Game released Documentary 2.5, the anticipated second disc of double-feature album Documentary 2, on Friday — his first and second album releases in three years.
The 18-track album from The Game, real name Jayceon Terrell Taylor, is available to order on iTunes and features an impressive lineup of hip-hop collaborations, including Busta Rhymes, Lil Wayne, Nas and will.i.am. The full tracklist is also available on iTunes.
The album's bonus track featuring Skrillex, "El Chapo," the infamous nickname of Mexican drug lord Joaquín Guzmán, was released on Oct. 8. 
The song's lyrics refer to El Chapo as "God" and incorporates Spanish while referencing drugs and gang violence. "You know I get the kilos, cincuenta por ciento [50%]. If you are not bilingual, Get the fuck up out of town, 'fore we run your ass down." The album's full lyrics can be found here.
Stream the full album through Spotify.
The album's first disc, Documentary 2, was released on Oct. 9 and featured a stacked list of guest artists as well, like rappers Kanye West, Kendrick Lamar and Future. The double-disc album is a sequel to The Game's 2005 debut, The Documentary. The two discs reportedly represent the Los Angeles gangs the Bloods and the Crips.
The rapper told MTV on Oct. 9 that he's been working on the album for three years because Dr. Dre wasn't pleased with the first few drafts. "I went through a few different drafts of what it was," he told MTV. "Once I played the first for Dre, he was just like, thumbs down. Not because the music wasn't up to par — it just wasn't Documentary-level."