Kylie Jenner and Kourtney Kardashian Send Love and Support to Lamar Odom on Instagram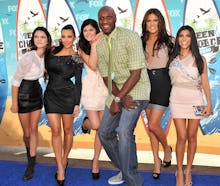 Professional athletes, celebrities and friends of Lamar Odom have expressed their sympathy and support after the former NBA basketball player was found unconscious in a Nevada brothel Tuesday afternoon. Now, Kylie Jenner and Kourtney Kardashian have broken their silence on social media, taking to Instagram to post their prayers and encouragement for Odom's recovery.
"Let's dance again together soon," Jenner captioned a black and white photo of her sitting behind Odom in a convertible with their hands raised to the sky. "Prayers up for Lamar please."
 Kardashian posted a photo of the basketball player hugging and playing with her oldest son Mason, writing, "Believing in the power of prayer for this beautiful soul."
The basketball player, who won two NBA championships during his tenure on the Los Angeles Lakers, married Khloe Kardashian in 2009. Kardashian starred alongside the 35-year-old in the reality TV show Khloe & Lamar before the two became estranged spouses in 2013. Odom reportedly entered into rehab the same year he moved out of Khloe's home, People reports. The basketball player's substance abuse issues were causing strains on the pair's relationship, according to People. 
Kendall Jenner also tweeted "please don't go" as the news of Odom's condition began circulating the web Wednesday morning. Kris Jenner, the mother of the Kardashian-Jenner empire, and her son Rob Kardashian also expressed their support for Odom on Thursday. 
On Wednesday, Nevada Nye County Sheriff's Department held a press conference during which they revealed 911 tapes from two employees of the Nevada brothel called Love Ranch, who told operators Odom was unconscious when he was discovered. The basketball player is currently in critical condition. Odom may have been using cocaine in the days leading up to his being found unconscious, as well as a dangerous supplement called "herbal viagra" known to have harmful ingredients to the human body, although investigators are awaiting the results of a toxicity blood test, CNN reports.