Moto 360 2.0: Features and Price for Latest Android Smartwatch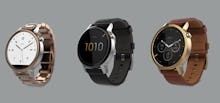 Motorola's latest Android smartwatch, the new Moto 360, allows users to stream music, track activity and even start their car, according to the company. The device was made available to order on Monday with an estimated 10-day delivery wait-time after technical difficulties pushed back the original Sept. 25 delivery date, TechRadar reports.
The smartwatch, whose price starts at $299, looks similar to Motorola's original Moto 360 smartwatch released in 2014 but features a few key changes to its design and function, TechRadar reports. A sport version of the smartwatch, Moto 360 Sport, is expected later this year, Wareable reports.
Features: The device is compatible with both Android and Apple phones, Wareable reports.
Like the old Moto 360, the 2.0 version is customizable, however Motorola introduced a smaller size option this time around. Customers can also choose from a selection of bands, cases, face designs and finishes (however some options cost extra.) A double-wrapped version is available in the women's style.
Wearers can sync music from Google Play onto their Moto smartwatches that can still be accessed while they're away from their smartphones, according to Motorola's website. Users can also access and control the music streaming app Spotify from their phones, according to the site, and start and lock their cars using the app MyFord Mobile.
The power button is now located at half-past 1, as opposed the original position at 3, which TechRadar wrote makes it easier to avoid pressing the button accidentally. The watch's face is protected with Gorilla Glass, a super-strong glass that's hard to crack or scratch.
The watch is packed with 4 gigabytes of storage, compared to 8 gigabytes of storage on the rival Apple smartwatch, and offers both bluetooth and WiFi connection, Wareable reports. 
The device's "Moto Body" software is designed to track all user activity including steps, calories burned and heart rate, Engadget reports.
The battery should allow one day of use before the watch needs a charge, Wareable reports.
The Moto 360 Sport: The anticipated sport version of the watch does not yet have a set price or release date, but is said to be the second Android Wear device with GPS, after the Sony Smartwatch 3, Wareable reported in September. The device's distinct features are focused around an active lifestyle, including an air vent designed to keep the user cool when active.