These 3-D Printed Instruments Could Shape the Future of Music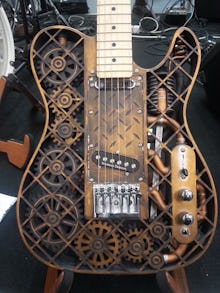 It doesn't look like anything at first. But as the arm of the printer slides back and forth, a violin slowly takes shape. It has all the elegance of that delicate instrument but has a thoroughly modern look. The violin is electric. It is perfectly clear. And its body was created entirely inside of a 3-D printer.
"At the beginning, it was just a personal challenge," Laurent Bernadac, French-based creator of the 3Dvarius, told Mic.
Bernadac and describes the 3Dvarius as the world's first fully playable 3-D printed violin. He's been playing the violin since he was 5 years old but his professional background is in engineering. 
It's no surprise designers with a background in the sciences are gravitating toward this new technology. The field is highly sophisticated and accessible enough that anyone with a PC and a desktop 3-D printer can begin printing their own musical instruments at home.
In 2012, Bernadac was finishing his engineering degree at the National Institute of Applied Sciences of Toulouse when he became interested in the idea of designing his own electric violin. While ordinary electric violins have a modern, almost harsh sound, Bernadac wanted something with a look and tone that replicated the forms of the legendary Stradivarius.
"I had just one goal: create an instrument in perfect symbiosis with my needs. Something new, with a more natural playing style," he said.
For a year, he researched the history of violin design, visiting design exhibitions and conferring with musicians and instrument makers. The result is an utterly unique instrument — almost alien in its construction, yet warmly familiar. Because of the swooping curves that make his violin so beautiful, it was a design that could only have been realized in a 3-D printer.
Bernadac uses an SLA 3500 3-D printer, which he favors because of its precision, transparency and the strength of its clear resins. He designed the instrument entirely on his PC.  
"I've always used PCs," he said. "I like the flexibility. You can do what you want, with no permission restriction."
In a video demonstrating the violin, Bernadac grins as he plays, producing music that is as lighthearted, modern and cheerful as the violin itself.
For the designers of high-end musical instruments, the 3-D printer can create prototypes in hours instead of weeks, allowing for endless experimentation. For home users, 3-D printers offer the promise of producing high-quality instruments for a fraction of what they might cost if made by traditional means. One YouTube video promises to help viewers print their own electric guitar for as little as $30.
Eric Goldemberg, co-founder of the Florida-based design firm MONAD Studio, appreciates the 3-D printer's versatility. He and his partner, Veronica Zalcberg, have used the technology to create very different instruments from Bernadac's 3Dvarius. Inspired by the twisting roots of Florida's strangler fig trees, MONAD's two-string piezoelectric violin is built with interwoven strands of black plastic. By using piezoelectric technology, applied pressure is converted into an electric signal, which gives the instrument sound. 
"Our sonic sculptures have been compared to sci-fi weapons," Goldemberg told  Mic. The last one we created is a wind instrument called a hornucopian dronepipe, which sounds like a didgeridoo but looks like a python that wraps around and constricts the body of the musician." 
Goldemberg and his team, which began designing these unique instruments as part of a collaboration with experimental musician Scott F. Hall, found that the 3-D printer's speed "tends to match our curiosity and relentless need for experimentation."
"The printer is almost like another partner, as is the 3-D design software," Goldemberg said.
While not every home can afford the industrial 3-D printer required to make these instruments, the software is available to anyone with a laptop PC; services like Cubify allow home users to upload their designs for remote manufacture. This service allowed Olaf Diegel to turn a guitar-designing hobby into an internationally successful small business.
Diegel, a Swedish-based engineer, began dreaming up complex, beautiful guitars in 2011 after reading an article in the Economist.
"I did my first one really just to see if it was possible but was then amazed by how well it worked and played," Diegel said.
He kept designing the instruments and now has a lucrative business selling his unique guitars on Cubify. Diegel begins a design on his computer, where he can spend as long as a few weeks mapping out the twists and swirls that are his signature. He uses a PC, which he likes for its processing power and because the software he can get for it is not available anywhere else. Once he's finished, he uploads the file to Cubify. A few days later, the plastic body comes back to him, and he assembles the finished guitar. As demonstrated in this video, there is nothing plastic about the sound.
"The reason 3-D printing is perfect for my designs is that it allows me to make the impossible," Diegel said. "No matter how complex my idea and, in fact, the more complex it is, the better, 3-D printing can handle it. It really removes the manufacturing barrier that normally prevents us from realizing our ideas."
The hardest thing about designing for the 3-D printer, he said, was not about adapting the technology to the requirements of the art form. Rather, it was in dreaming up designs that were creative enough to take advantage of the unlimited power of the machine. 
"That's why all my guitars have complex internal details that would be completely impossible to make using traditional technologies," he said.
When one of Diegel's guitar bodies comes out of the 3-D printer, it's just a white block. Start pressing on it and the extra material falls away into dust. Slowly, a guitar takes shape. It's like finding an elephant in a block of marble, except much, much faster, because all the sculpting has already been completed inside the 3-D printer.