This 3-D Software Could Change the Way We Plan Our Cities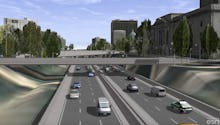 Remember SimCity? Just like you used to plan out streets, buildings and parks all in a 3-D computer game, city planners today are using simulations to make sure the cities of the future are better off before ever breaking ground on new developments. CityEngine, a software that provides a design framework for geographic data, creates full 3-D models of cities around the world. 
CityEngine combines the geographical information of a city with other crucial data points, like zoning law restrictions and the location of water pipes. With a full replicated 3-D city model, urban planners and architects can build better new structures and avoid potential problems before they occur.
"When architects present a new development, they usually just show that one building," Dominik Tarolli, director of global business development of 3-D and geodesign at Esri, told Mic. "Usually a building is not by itself. It always has a context. CityEngine has the ability to create that surrounding context so you can really understand that building."
The main layer of information in these city models is the geographic information system maps. GIS lets people in any industry better visualize what's really happening. From urban planning to international development, GIS has the potential to help a number of disciplines, and it's all based on PCs.
ArcGIS, one of the main components of GIS tech giant Esri's software services, is primarily based on PCs. The software creates maps in both 2-D and 3-D visualizations, and allows users from any field to layer other information over basic geographic data that create useful pictures of information. The software requires PC capabilities because it needs the power of a PC's hard drive, memory and RAM to be able to create these powerful layered maps.
While the CityEngine software was originally created in 2008 and joined with Esri in 2011, it is constantly being upgraded to add more information and tools to the 3-D models. On November 2, the team released an update that adds dashboards so planners can see how much energy they are using in any given building in the city model before they build it.
Some of the most innovative cities around the world have used the software to plan new structures. For instance, in Singapore and Paris, city governments are doing everything from creating visualizations of new building complexes to envisioning what would happen to the city if a major flood occurred.
In Sweden's second largest city, Gothenburg, the government used CityEngine to plan developments and get feedback from city residents before building. Because all of CityEngine is online, the 3-D models can be easily shared. It's not a tool you have to already have downloaded onto a desktop.
"They are really on top of communicating their new developments to the public," Tarolli said. "They've taken information, rendered it and engaged with the public to get their immediate feedback. It helps to engage with people to make your city a better place."
Being able to share this information with citizens before starting to construct high-rises or putting in a new urban rail system is a major step forward for many city governments.
"As a citizen, I want to exactly know what the new development is," Tarolli said. "How does it impact me? What does it mean for me? What are the implications here? The Web scene is a nice way to really navigate, understand and make informed decisions."
CityEngine combines a number of different levels of information to create the fully replicated model of a living city. After the main level of information, GIS mapping data, is set up, CityEngine developers add in zoning law restrictions, bike lanes, parks and more. 
Moving into 3-D models is the first step to creating safer and more sustainable cities.
"People have said that 3-D models create a sense of realism and help projects go forward, because people are less afraid of them, and they have a better idea of what's going on," Esri software engineer David Wasserman told Fast Company. 
The GIS software that serves as the foundation of the program was developed decades ago. Jack and Laura Dangermond founded Esri in 1969 to use the new mapping software for land-use planners. GIS technology originated on PCs, and the desktop software is still primarily used on PCs today.
Almost every major city in the world now has a 3-D model, Tarolli said.
Once a city decides they would like a 3-D replicated model, Tarolli and his team work with the city government to gather all of the information necessary to create it. With the advancement in technology and the power of the next generation of PCs, the way cities are planned has significantly progressed.
"We just surpassed the point where more than 50% of people live in cities," Tarolli said. "We have to figure out how we can make those cities even more pleasant, how we can increase the quality of life. I think with today's technology, that's not rocket science anymore."