Here's How to Be More Productive From 7 of the World's Top Tech Innovators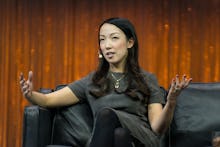 Building your own tech empire is demanding. It takes time, commitment and focus. With so much to do, plan and conquer it's easy to get distracted.
We rounded up personal tips and tricks to staying productive and focused from some of the most exciting tech entrepreneurs. While some might recommend particular software or organizational methods to stay on track, others approach productivity in a more global way. But one thing that many of these entrepreneurs have in common is that each of their dreams, to some degree, came to fruition due to their own personal style of productivity.
Take a page from their books, and with a little luck, you'll be helping to build empires in short order.
1. Elon Musk
Elon Musk, founder of SpaceX and Tesla Motors, can't quite manage to add more hours to the day — yet. Instead, he treats multitasking like a rocket science, conducting business on his phone during precious family time and emailing so often that he jokingly considers it his "core competency." No surprise, then, that Musk and those who help manage his tightly packed schedule treat his inbox as though it's buried deep inside Fort Knox, according to a Quora post on the subject. Only a lucky few know his current email address.
2. Shubham Banerjee
At 14 years old, Shubham Banerjee is one of the world's youngest entrepreneurs. He is the inventor of Braigo (Braille + Lego), a cost-effective braille printer.
Microsoft took notice. Banerjee worked with the company to build the next iteration of his original braille printer on a Windows operating system. This was a big step up from the Lego set he used to build his own starting version in 2013.
His accomplishment is helping those who can't see have access to a smarter and better Braille printer. For Banerjee, creating something with technology that has a bigger purpose helps him stay focused, according to U.S. News and World Report.
3. Ingrid Vanderveldt
Ingrid Vanderveldt is the CEO and founder of the Empowering a Billion Women by 2020 movement. The group, formally launched in 2015, is focused around three key pillars: mobility, mentoring and money. The goal of the organization is to give women the tools and community they need to become successful entrepreneurs, no matter where they live.
Vanderveldt told the Next Women her ability to stay focused by leaning on her support network and remembering the end goal of her project helps her accomplish challenging tasks.
4. Dan Hubert
Dan Hubert is the CEO and co-founder of AppyParking, which leverages big data to tell people (and eventually automated cars) where they can legally park their ride. Hubert was in advertising until he tried to attend a show at Royal Albert Hall in London in 2012 and had a hassle figuring out the parking rules around the venue. So, he set about digitizing maps and compiling PDFs that contain parking rules for areas of London, and AppyParking was born. Earlier this year, the company announced a partnership with Ford to help bring "painless parking" to the masses.
While a lot of people spend time searching for and switching between various systems and apps to keep track of all their work, Hubert told Mic that he uses just one flexible system, makes it work for him and gets on with the work.
5. Nick D'Aloisio
Nick D'Aloisio is a bit of a teenage wonder. He developed Summly, later bought by Yahoo, when he was 17 years old, but it wasn't a first-inning home run. He got started long before that, developing one app after another, carefully learning from them each time.
One of D'Aloisio's keys is never wanting to, or settling for, just coasting by, he told the Financial Times. Instead, he continues to push himself by creating personal challenges to build new apps for new purposes.
6. Jack Dorsey
Jack Dorsey is most widely known as the co-founder (and recently named CEO) of Twitter. He's also the CEO of Square, a payment-processing company. In short, he pulls Elon Musk-level double duty.
The way he keeps it all straight is by theming his days, according to Forbes: Monday is for management and running the companies (both companies); Tuesday is all about the product; Wednesday is for marketing and growth; Thursday is for partnerships; Friday is company culture and recruiting; Saturday is time off, and Sunday is for reflection and strategy.
For the rest of us, that might mean Monday is for meetings, Tuesday is for new business, etc. — but you get the drift. The more you can prioritize and organize your schedule by day during the week, the more productive you can be.
7. Clara Shih
Clara Shih is the founder and CEO of Hearsay Social. The company, which started as an idea for an app from Shih, gives teams around the world the power to connect with customers and grow their businesses on social media channels. She urges young entrepreneurs "to take more risks and to embrace every mistake they make," according to Fortune. When starting her own company with a former Stanford classmate, Shih knew some risks were involved, but she took those challenges head on and is now a founder of a successful tech company.
While starting something new or tackling a larger challenge can present us with risk and potential failure, it is only through these mistakes that we learn and grow. Failure often just creates information for how to learn to do better in the future. Shih uses this belief in learning and collecting data from missteps to be more productive in her everyday life and career, she told Fortune.
Whether it's particular productivity hacks or larger vision-oriented approaches to getting things done, take a few words of wisdom from those who've been there before to sort through the clutter and make your own impact.