One Model's Powerful Quote Sums Up Why the Fashion Photos We See Do Matter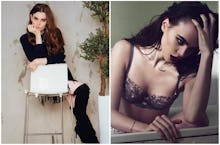 The fashion industry may seem like its own fantasy world, with skinny models and expensive clothes and other fantastical qualities that are meant to be viewed from a distance and not taken too seriously.
But the images in fashion magazines and on runways do matter. 
In an essay published on Friday for Dazed, outspoken British model Charli Howard points out the damaging effect the fashion industry can have on young girls across the world, especially in our Instagram age.
"The pressures to look perfect are just too much to handle," she writes. "People wonder why teenage girls are fucked up scrolling through Instagram all day and won't take any responsibility for the images they're selling."
Those pressures to look perfect are something Howard has faced firsthand, as a walking testament to the modeling industry's unrealistic beauty standards. As she explained in a Facebook status update (that's now gone viral) on Tuesday, she said she was dropped by her agency for being "too big" and "out of shape." A note: She's a U.K. size 6 to 8 — that's a U.S. size 2 to 4. 
"Here's a big FUCK YOU to my (now ex) model agency, for saying that at [5 feet 8 inches] tall and a U.K. size 6-8 (naturally), I'm 'too big' and 'out of shape' to work in the fashion industry," she wrote.
The industry's beauty ideals are nearly impossible to meet, Howard writes, partly because they're an untamable, constantly changing beast. "Beauty ideals are hard to get right as they're continually changing," she writes for Dazed. "You will never be too thin, too pretty or too individual enough."
Speaking of beauty ideals, Howard points to a more diverse cast of models who could help, like Winnie Harlow, who has vitiligo, and plus-size model Ashley Graham, and calls for more diversity overall. 
"Where were the models representing the nonwhite girls who buy those clothes or read those magazines?" she writes. "Stop using black and Asian girls as 'tokens'. They're just as beautiful and will sell just as many clothes."
Can models speaking up from the inside make a difference? Not seeing diverse bodies and faces or realistic beauty possibilities can make a real impact on the women and girls who track these images on their feeds — not to mention affect the models who are forced to meet the standards. 
That's why models like Howard are speaking out. In August, Cara Delevingne told the press that she was quitting modeling because of how insecure and unhappy it made her feel about her body. 
"If you hate yourself and your body and the way you look, it just gets worse and worse," Delevingne told London's Sunday Times. 
In July, South Sudanese model Nykhor Paul also took to social media to call out the industry, citing the lack of diversity rooted in an industry that makes no efforts to be inclusive.
"I'm tired of complaining about not getting book[ed] as a black model and I'm definitely super tired of apologizing for my blackness!!!!" she wrote. "[Fashion] should be inclusive of all not only white people. Shit, we started fashion in Africa and you modernize and copy it! Why can't we be part of fashion fully and equally?" 
Unfortunately, it's hard to ignore the barrage of images flooding your Instagram feed — bodies that are slim, airbrushed, white, toned, tall. The images themselves should change. In the meantime, Howard writes in Dazed, fashion should be treated as an art, not a real-life standard to live by. 
"It's a place for you to escape to, but not take too seriously," she writes. "Appreciate it like it's art, and leave it at that."