One Direction "Perfect": Lyrics and Meaning for Harry Styles-Penned Track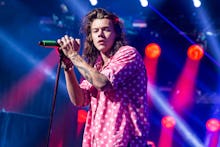 English-Irish boy band One Direction have graced its followers with the release of its highly anticipated single "Perfect," off its upcoming fifth and final album Made In The A.M., on Friday. 'Perfect's' meaning has been rumored to be about Taylor Swift.
Harry Styles, the band's lead singer and Taylor Swift's ex-boyfriend, co-penned the lyrics. The former Hollywood power-couple reportedly kindled a romance in 2012, earning the nickname "Haylor" by fans. The pair split in 2013; Swift started seeing DJ Calvin Harris in February, MTV reports.
When the band first teased the song on Oct. 12, fans and some blogs speculated that the lyrics could be about Swift, but Styles has yet to comment, SugarScape reports. One line from the song — "And if you're looking for someone to write your breakup songs about, baby, I'm perfect" — could refer to Swift's reputation to turn her ex's into breakup songs, however fans will be left wondering until Styles opens up about the song's meaning. Direct Lyrics has the full lyrics here. 
Some 1D fans are convinced "Perfect" is about Swift and have taken to social media to make their cases: 
Some say the song reminds them of Swift's song "Style," which was rumored to be about Styles himself. 
One Direction fans are dealing with this hysteria while still recovering from band member Zayn Malik leaving the group in March to launch a solo career. In the announcement, Malik said his experience with 1D was "more than he could've ever imagined" but that he felt it was time to go. The band confirmed that they would move on without him but said they're "really sad to see Zayn go."
Correction: Oct. 16, 2015