Amy Schumer HBO Special: Start Time, Channel and How to Watch 'Live at The Apollo'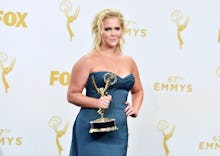 The reign of comic and actress Amy Schumer just won't let up. The 34-year-old Emmy-award winning star of Comedy Central's Inside Amy Schumer, whose film Trainwreck was a summer box-office smash, has a special titled Amy Schumer: Live at the Apollo premiering Saturday on HBO. The special event, directed by Chris Rock at the Apollo Theater in New York City, airs at 10 p.m. ET.
For fans and audiences interested in tuning into Schumer's antics on Saturday, the pre-taped event will air on the HBO network, and will also be available for streaming via HBO Go and HBO Now. Both streaming services will be live once the show kicks off at 10 p.m.
The comedian took to Twitter on Thursday to promote the upcoming event:
And HBO released a trailer for the highly anticipated event on its YouTube channel last month:
Amy Schumer: Live at the Apollo is the comic's first HBO stand-up special, although it certainly isn't her first time taking the stage in front of a massive audience. Schumer's bit in the Comedy Central Roast of Charlie Sheen was many audiences' first time seeing the comic perform, and a major reason the comedian was given a network special titled Mostly Sex Stuff in 2012, the Washington Post reports. Most recently, Schumer was the host of Saturday Night Live.