Miguel Says Voting for Trump Is "Fucking Ignorant," Wouldn't Perform With Him on 'SNL'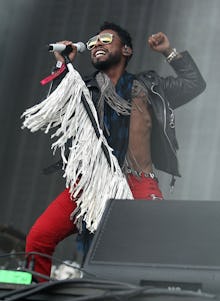 Miguel is a man of principles. In this case, those principles happen to be never voting for Donald Trump.
Speaking to NME in a piece released Thursday, the R&B star talked Trump's recent resonance with the American people. Miguel, however, hasn't been impressed by anything he's heard from the Republican candidate. "There's a tremendous responsibility that we all have just to not be fucking ignorant," he told NME about the idea of voting for Trump. "It's really sad that even at that level, there is this ignorance that exists."
Miguel spoke to why television networks have been shirking that responsibility, focusing on Trump hosting Saturday Night Live next month. "I believe it will be good for the ratings; I'm sure that's how they're looking at it too," he told NME. "But you know, I think there's also a responsibility that you have to have. And I don't think ignorance deserves that kind of attention and unfortunately we live in a world where attention is the ultimate currency." 
This kind of dirty money is something Miguel wants no part in.
The Wildheart singer elaborated on his idea of attention as currency as an explanation for why networks have all been scrambling to cover the business mogul's campaign. 
"His ability to aggregate attention is valuable to a network, a business where advertising is the source of income," he told NME. "And that means you need as much attention as possible. If I was asked to perform on the same episode as Donald Trump, I would be faced with the same decision as the network. And me being who I am, I would definitely decline, probably at my own detriment."
The musician who will benefit from Trump's ratings that night? Sia. Twitter has been having a field day with the hair jokes.
Miguel is far from the first artist who has turned down a valuable opportunity for publicity when Trump is involved. Latin performer J Balvin cancelled a performance during a Miss USA pageant in July after he found out Trump co-owned the event's parent company.  
"I think music is to have fun," Balvin told Billboard. "It's for people to have a good time with. I'm no savior and I'm no Robin Hood. But in this case, I feel totally comfortable and responsible with my decision."
Balvin's words earned him the support of other Latin artists, including two-time Grammy winner Juanes. Becky G dedicated her recent song "We Are Mexico" to Trump, painting a nuanced picture of the Mexican people as an alternative to Trump's assertions that all Mexicans that have immigrated to the U.S. are drug mules and "rapists."
Other than his anti-Trump stance, Miguel doesn't know who he is going to vote for yet. He said he's "not clear on what each viable candidate standing is on the issues that matter to me yet."
"When I do vote," he told NME, "it'll be for the candidate that wants to do something about the issues that matter to me and that's the best thing that we can do."