Sheryl Sandberg Reminds Women Feminism's Work Isn't Done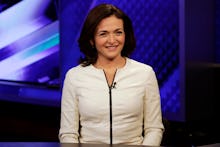 Facebook chief operating officer Sheryl Sandberg's bestselling 2013 book, Lean In: Women, Work and the Will to Lead shed light on long-held workplace inequality but incurred criticism for placing the burden to incite change on women while focusing on a privileged, sanitized version of feminism. Sandberg, however, is still urging women today to listen to her central point: Women must continue to work while pushing for broader change that puts gender equality at the forefront of every workplace in the country. 
Addressing attendees at the Grace Hopper Celebration of Women in Computing conference Thursday in Houston, Texas, Sandberg urged women not only to stay in the tech industry but to assert themselves in seeking leadership roles.  
"Stay in for yourself and stay in for the women who are going to follow you," she said, according to CNN. "Stay in it for my 8-year-old daughter."
Lean in and stay in: In addition to promoting a broader understanding of feminist empowerment, Sandberg has long been an advocate for women in the science, technology, engineering and math fields. Women are not only underrepresented and discriminated against in these fields, but rates of girls choosing to enter STEM is on the decline, too. What's more, a whopping 100% of respondents to a University of California, Hastings, College of Law survey of 60 women of color in STEM reported experiencing gender bias in their careers. 
It's a point she also explicitly addressed at the event, emphasizing not only the importance of striving for success in technology fields — by negotiating raises and seeking peer support — but also by persevering in the field overall.