Here's Why Donald Trump and Ben Carson Were Threatening to Boycott CNBC Debate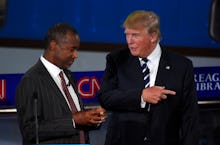 Republican presidential candidates Donald Trump and Ben Carson succeeded in strong-arming CNBC into shortening the next Republican primary debate, according to a tweet from Trump early Friday morning. The real estate mogul and former neurosurgeon were threatening to Boycott the CNBC debate unless the network changed its debate format so that it wouldn't run longer than two hours, NBC News reported on Thursday.
And according to Trump's Friday tweet, it appears the candidates were heard:
In a letter obtained by NBC News, a sister network of CNBC, which will host the third Republican debate on Oct. 28, Trump and Carson said they took issue with CNBC's decision to nix opening and closing statements and the proposed length of the debate, which is two hours and 16 minutes. The 2015 CNN Republican debate lasted nearly three hours. 
"Mr. Trump and Dr. Carson do agree to a 120-minute debate that includes commercial breaks and opening and closing statements," reads the letter, which is addressed to CNBC Washington bureau chief Matthew Cuddy. "Mr. Trump and Dr. Carson do not, and will not, agree to appear at a debate that is more than 120 minutes long including commercial breaks. Further, the debate must include opening and closing statements from all the candidates."
CNBC had planned to host a two hour-long debate plus an additional 16 minutes of commercials, but that time block wouldn't allot for opening or closing remarks, something Trump and Carson's letter called unacceptable.
Late Thursday, CNBC spokesman Brian Steel explained the thinking behind the network's proposed scheduling, but revealed it was considering bending to the candidates' demands. 
"Our goal is to host the most substantive debate," Steel said in a statement, per NBC News. "Our practice in the past has been to forego opening statements to quickly address the critical issues that matter most to the American people. We started a dialogue yesterday with all of the campaigns involved and we will certainly take the candidates' views on the format into consideration as we finalize the debate structure."
Considering CNBC has allegedly agreed to a debate time of two hours, it seems likely that Trump and Carson will join their fellow Republican candidates on stage at the University of Boulder in Colorado on Oct. 28. CNBC will live-stream the event.