A Black Church in Gentrifying Oakland Faces a $3,529 Fine for Being Too Loud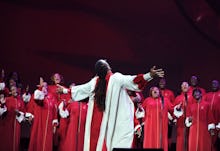 A predominantly black church in Oakland, California, was threatened with more than $3,500 in fines this week. The crime? Hosting choir practices too loud for some of its neighbors' liking. 
Local television station KPIX reports that Pleasant Grove Baptist Church received an advisory letter from the city, calling its choir practice a "nuisance activity" and explaining that, if it continues, the church could be slapped with a "$3,529 nuisance case fee and civil penalties of $500 a day." 
The letter stems from noise complaints filed by the church's residential neighbors. "In addition to violating Oakland's noise ordinance," the letter reads, "this activity may constitute a public nuisance due to its impact to the use and quiet enjoyment of the surrounding community's property."
The church has been in the neighborhood for more than half a century, according to its pastor, and does not intend to stop its choir practices any time soon. "Kind of hard to believe because we've been here about 65 years in the community and all of a sudden we get some concerns about the noise," the Rev. Thomas A. Harris III told KPIX.
Pleasant Grove did not respond to Mic's request for comment.
Background: Churches have been the spiritual and political cornerstones of black communities since early America. Worship services are known for their vigorous and, at times, boisterous celebration of the black Christian spirit, and their choirs are among their defining features.
According to KPIX, local church leaders and community members met Wednesday to discuss the city's complaint. The City Council and local NAACP chapter have been roped in to partner on developing solutions, and as of Wednesday, Pleasant Grove planned to fight any fines should they be applied.
But this battle also speaks to broader concerns. Pleasant Grove representatives believe the complaint was filed by newer residents to the area, which sits in a Victorian home-lined stretch of West Oakland. According to an interactive map produced by the Urban Displacement Project at the University of California at Berkeley, the church is surrounded by neighborhoods that have undergone increasingly rapid gentrification over the past 15 years.
While Pleasant Grove's immediate vicinity has yet to bear the brunt of this phenomenon — which has included skyrocketing rent costs and displacement spurred by the Bay Area's much-discussed tech worker influx — the Berkeley project categorizes the area as "at risk of gentrification or displacement." 
The neighborhood's median home sale price rose 25.1% between 2000 and 2013, and the city's optics have shifted in kind: Oakland now has more white residents than black residents for the first time since the 1970s, according to KQED.
It remains unclear who exactly filed the noise complaint with the city. But as the region continues to undergo significant demographic and economic shifts, the tensions laid bare remain a source of concern for residents. In the meantime, the Pleasant Grove Baptist Church choir plans to continue holding its rehearsals. Local pastors at other houses of worship told KPIX they also may have services outside, so the whole city can enjoy the music.
h/t KPIX