This $500 Bedazzled Selfie Stick Is Basically the Height of Fashion Ridiculousness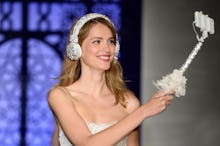 As if we needed any more reminders that selfies have taken over our entire lives, here's a new one for you: glamorous, bedazzled selfie sticks that are ready-made for your wedding day, to the tune of $500.
The designer Reem Acra debuted the latest wedding accessory during her Oct. 9 Fall/Winter 2016 bridal show, where models walked down the runway in the latest wedding dress styles. 
The jarring sight of a bride in a floor-length gown with the tech accessory, not to mention glittery headphones, was obviously good publicity (and probably resulted in some interesting runway shows). But as it turns out, people are actually buying it: A representative for Reem Acra told the New York Post that its New York boutique is out of stock of the selfie sticks.
From the sticks to the headphones, Acra told Vogue that the goal was to show how a bride can "tune out the rest of the world and simply have fun."
"Posed pictures can look formal and serious, and the selfie stick will give everyone something to smile about," she told the magazine.
That may be true, give how silly and still unfashionable they are. Fashion designers have been incorporating selfie sticks in the industry for a few seasons now, from models in photo shoots to designers using them as inspiration. Massimo Giorgetti, the creative director for the label Pucci, debuted a quirky dress with a print featuring an illustration of a tourist wielding a selfie stick.
But we have a feeling the wedding selfie stick might pose a few quandaries for brides. Does this mean the bouquet is out of fashion? If a bride holds the bouquet and the selfie stick, can she still hold her new spouse's hand? What about wedding photographers — are their jobs in jeopardy, or will they merely edit the selfies before someone tags the bride or applies that all-important wedding hashtag?
And the most important question of all: Will this selfie wedding stick will start cropping up on wedding registries?