Winter Weather Predictions 2015: When First Snow Could Hit the Northeast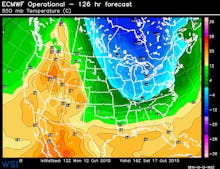 Forecasters predict parts of the Northeast could already see frost and maybe some snow over the weekend as a cold spell hits, NBC reports. More than 75 million people across the region could experience frost advisories, Weather Channel meteorologist Justin Abraham tweeted. Anywhere from the Great Lakes to the East Coast could see temperatures dip as low as the 30s and even 20s over the weekend, according to NBC.
When could the first snow hit the Northeast? Parts of the Northeast can expect mild snowfall and below-freezing temperature starting Friday night. "It is going to be very chilly," Weather Channel meteorologist Michael Palmer told NBC on Friday. "There will be a little snow that comes off the Great Lakes Friday night into Saturday and a little but in the higher terrain of New England. Most accumulation will be less than an inch except for a few isolated areas of 1 to 3 inches, but it will be nothing significant overall." 
The Weather Channel has laid out a map of when the average first snowfall happens in major cities in the Northeast. The first sight of snow there usually occurs between late November and mid-December. 
Overall, the Northeast may catch a break this season compared to last year's brutal winter. Forecasters are predicting milder winter temperatures for the Northeast with "fewer days of subzero temperatures than last year," AccuWeather reports.
Palmer's forecast shows the Northeast will see warmer temperatures by Oct. 24.
The National Oceanic and Atmospheric Administration predicts the northern tier of the United States will see "above-average temperatures" from December through February, while the southern tier should experience "cooler and wetter" weather from El Niño this winter.
Snowfall throughout the season is difficult to predict and totals are still unknown. "Snow forecasts are dependent upon the strength and track of winter storms, which are generally not predictable more than a week in advance," according to the NOAA's seasonal outlook.
Last year brought the Northeast some of the harshest weather in recent decades. November of 2014 was the coldest winter since 2000 and the 16th coldest on record, the Weather Channel reports. Boston broke its snowfall record with 110.6 inches, and recorded snowfall was above average in the entire Northeast region.