Selena Gomez Responds to Cara Delevingne Lesbian Rumors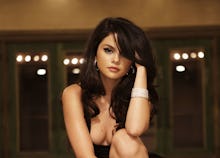 Selena Gomez is taking rumors surrounding her love life in stride, especially considering they don't concern her ex-boyfriend, Justin Bieber. In an interview published Wednesday with PrideSource, the pop star shares that she didn't necessarily mind old rumors she was dating model Cara Delevingne after the two vacationed in the French Riviera in July 2014. 
In fact, she loved it, telling PrideSource, "They weren't talking about other people in my life for once, which was wonderful." The 23-year-old, who is often rumored to be dating fellow musician Justin Bieber ever since the two broke up in 2012, discussed in the new interview how she has questioned her sexuality, and how Delevingne's openness about her bisexuality has helped shape her.
"[Delevingne is] incredible and very open and she just makes me open," Gomez told PrideSource. "She's so fun and she's just extremely adventurous, and sometimes I just want that in my life, so I didn't mind it. I loved it." 
The "Good For You" singer also told the publication she thinks it's "healthy to gain a perspective on who you are deep down, question yourself and challenge yourself."
Gomez attributes her acceptance of different sexualities and the LGBT community to her mother, who worked at a modeling agency as the artist grew up, often bringing Gomez to Sunday brunches with her gay friends. "I just remember a lot of mimosas," she told PrideSource. "It was the best. So, I've been around it my whole life and, you know, I love it." The artist, who has been producing dance-club hits since she was 16 years old, said her music allowed her to further connect with the LGBT community. 
Gomez's latest album, Revival, was released Oct. 9.