Tom Hiddleston, 'Crimson Peak' Actor, on His Role in the Dark Thriller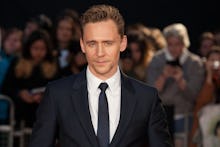 British actor Tom Hiddleston, who plays Thomas Sharpe in Crimson Peak — a dark, new thriller from blockbuster director Guillermo del Toro out Friday — has a history of playing the villain. Yet his latest role may push him toward lighter pursuits, Hiddleston said in an interview with Screen Crush. 
"When I first became an actor, my initial casting was playing nice, friendly people," Hiddleston told Screen Crush. "After a while it felt like it was all becoming a bit the same, and I wanted to shake it up a bit. I remember calling my agent and saying, 'Is there anything that's a bit darker that people maybe don't think of me for?' Now it's become the reverse, and I'm ready for my romantic comedy." 
In 2012, Hiddleston played supervillain Loki in a film adaptation of the Marvel Comics series The Avengers, which was directed by Joss Whedon. In 2013, the actor appeared on the big screen as Adam, a depressed musician, in Only Lovers Left Alive, a drama directed by Jim Jarmusch. That same year, Hiddleston starred in Thor: The Dark World from director Alan Taylor, again as the villainous Loki. 
Hiddleston's latest character is shrouded in mystery, according to the actor. "Thomas Sharpe is dashing and mysterious — I suppose you're not quite sure about him," Hiddleston said in an interview with Entertainment Weekly published Thursday. "There is an elegant mystery to him in the first half of the film and very quickly you realize there's more to it."
Though Hiddleston is supposedly vying to land a romantic comedy, the actor said there's a particular breed of romance evident between the characters in Crimson Peak.
"Everyone wants a kind of love from the other that they can't return," Hiddleston told Entertainment Weekly. "It's an interesting inverted love story. I hope people connect to it once the nights draw in and summer is over and there are coats raised against the chill. I hope that it will appeal to that aspect of the imagination."
Next on deck for the actor is a TV series called The Night Manager, which is an adaptation of a novel by British author John le Carré. Hiddleston is also in the throws of pre-production for the action-fantasy flick Kong: Skull Island, a Jordan Vogt-Roberts-directed King Kong rework that will be released on March 10, 2017. 
Hiddleston also has another Loki role on the books and will appear in 2017's Thor: Ragnarok, which will be directed by Taika Waititi.