Newly Released Video Shows Routine Traffic Stop Ending in Death in Less Than Six Minutes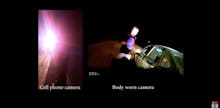 A routine traffic stop ended in death after a teenager was shot multiple times in Eaton County, Michigan.
The incident, which occurred in March, received new attention after video released by the Eaton County prosecutor showed exactly how the altercation between Sheriff's Office Sgt. Jonathan Frost and 17-year-old Deven Guilford turned deadly.
The footage shows Frost pulling over Guilford because the teenager had been flashing him with his lights, which Guilford said was to alert the officer that he had his high beams on. The video, recorded on Frost's body camera, shows the officer denying he had them on and then asking Guilford multiple times for his license, registration and proof of insurance. Guilford refuses to comply and questions why he is being detailed.
"I don't even know you're an officer," he says in the video. Later, Guilford says he does not have his license, then says he does but will not show it to Frost. "You do not have to see it," says Guilford. Frost responds by calling for backup. 
Eventually, Frost takes out his stun gun and orders Guilford out of the vehicle.
"Out of the car or you're gonna get tased," Frost says in the footage. "Everything's being recorded, son, I've got no problem with that."
While on the ground, Frost asks Guilford to put his phone down, an order the teenager also ignores. Frost then kicks it away, sparking a new round of noncompliance with Guilford. 
Frost moved to use his stun gun, but is unsuccessful. The camera gets choppy. A scuffle ensues. Moments later, gunshots ring out. Guilford was shot in the head, chest, stomach and arm and pronounced dead shortly thereafter.
Frost later said that that the teen attacked him, a claim which bloodied images of Frost, released after, appeared to confirm. In June, the Eaton County prosector announced that no charges would be filed, calling Frost's actions "lawful." Mic reached out to the Eaton County Sheriff's office, which was unavailable for comment.  
"Based on what we know at this time, our family believes that our son should not have been killed on the night in question," Guilford's parents, Becky and Brian, said in a statement provided to the Lansing State Journal. "There was no reason or necessity for the officer to physically remove our son from the car without considering other options to avoid an unnecessary violent escalation."
The family has now filed a federal civil rights lawsuit against Eaton County, which is expected to cost the municipality millions of dollars, according to reporting by the Lansing State Journal. The local Michigan paper has published the most complete record of events since Guilford's death. 
Watch the full video here.