Democratic Debate Schedule: Remaining Schedule for 2016 Candidates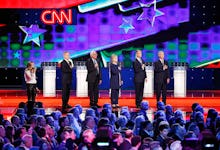 Tuesday marked the first Democratic debate for the 2016 presidential election. The Democratic candidates have five more chances to win voters' favor at the remaining debates, which are scheduled to occur once a month through March. 
For the time being, the Democratic presidential candidates include former Secretary of State Hilary Clinton, Vermont Sen. Bernie Sanders, former Maryland Gov. Marin O'Malley, former Rhode Island Gov. Lincoln Chafee and former Virginia Sen. Jim Webb, though Vice President Joe Biden is rumored to be joining the bill and could announce his candidacy as early as this weekend, according to CNN. 
Democratic debate schedule:
November: CBS News will host the second Democratic primary debate on Nov. 14 at Drake University in Des Moines, Iowa.
December: ABC News will host the third debate on Dec. 19 in Manchester, New Hampshire.
January: NBC News will host a debate on Jan. 17 in Charleston, South Carolina.
February: PBS will host a debate on Feb. 11 in Wisconsin, location TBD.
March: Univision will host the final Democratic debate on March 9 in Miami.
Here's a look at Tuesday's inaugural presidential debate in Las Vegas: