Usher and Nas Make Powerful Statement on Minority Lives Lost in Tidal Exclusive "Chains"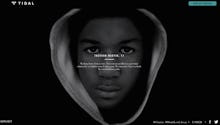 Usher's new single "Chains," featuring Nas and Bibi Bourelly, isn't the typical club anthem about heavy gold chains and partying all night that some fans may have been expecting from the title. Instead, the Tidal exclusive (which can be heard without a subscription to the streaming service) features a powerful audio and visual message about racial injustice and police violence in the United States. 
An innovative multimedia component accompanies the song. It accesses a listener's webcam to ensure they're watching their screens, as images of victims of police brutality appear, along with stories of how each person was killed. If a listener takes their eyes off the page, even for just a moment, the music abruptly cuts off and a message quickly flashes on the screen: "Don't look away."
Here's how it works: 
A simple message appears on the "Chains" landing page: "While racial injustice keeps killing, society keeps looking away."
The streaming service asks permission to access a user's built-in camera in order to ensure their eyes remain on the screen at all times. Once the technology identifies a listener's face and eyes, the song begins with an image of 17-year-old Trayvon Martin, who was shot and killed by Florida neighborhood watch volunteer George Zimmerman in 2012.
Trayvon Martin, 17
As "Chains" continues, people of different ethnicities whose lives were taken by gun violence dissolve and appear one after another, underscoring very real and present racial inequalities in the U.S.
Caesar Cruz, 35
Andrew Joseph, 14
Rekia Boyd, 22
Marlon Brown, 38
Kendrick Johnson, 17
The victims, their stories and the accompanying lyrics, which focus on police brutality and recent school and church shootings, force listeners to confront the violence enveloping the nation, particularly affecting minority communities.
The song's heartbreaking narrative and method of visual storytelling leaves one final message: The countless shooting deaths around the nation can no longer be ignored.