Carrie Underwood Releases Single "Renegade Runaway." Listen Here [VIDEO]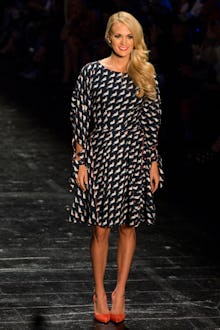 Oklahoman country singer Carrie Underwood's fifth studio album, Storyteller, is scheduled for release on Oct. 23, and on Friday, Underwood released the audio for the album's third single, "Renegade Runaway," via YouTube.
Though the YouTube clip's not technically a music video, the opening footage shows Underwood unwrapping a vinyl copy of Storyteller and starting the track on a vintage record player. Musically, "Renegade Runaway" steers Underwood's instrumentalism into harder rock than is typical of the musician's style. In much the way singer Taylor Swift's sound graduated from pure country to a genre-melding pop-rock-country, Underwood's sound has audibly evolved on her latest. 
Lyrics: As Underwood's sound advances, so too does the artist's lyricism. On "Renegade Runaway," Underwood gets bolder than ever. "Looks like an angel so picturesque," Underwood sings on her latest track. "Like she walked right out of the wild, wild West/ She's a devil in satin dress/ You don't even know her hair trigger's aiming right at your chest."
"By the time you figure out that she gave you the run around," she continues. "You won't know where she's at/ She's a tumbleweed blowin' in the wind come sun down/ Call a girl like that/ Renegade runaway."
On Oct. 9, Underwood also shared audio for the album's second single, "Heartbeat," via YouTube. The record's first single, "Smoke Break," surfaced on Aug. 21. A video release for the single followed on Aug. 25. 
Underwood has come a long way from her career-defining moment in 2005 when she won the fourth season of American Idol. Underwood has since released four studio albums, won seven Grammy Awards and sold 56 million records worldwide.
Underwood, who is married to NHL star Mike Fisher, is seven months into motherhood. Though her son, Isaiah, inspired some of the material on Storyteller, Underwood told People the record isn't all "mommy-and-me" tracks. As Underwood explores different angels for the tracks on Storyteller, the artist also strived to build on traditional country music.
"There's a lot of country, traditional, staple instruments, and obviously storytelling is something country music has always done really well," Underwood told People, in reference to her latest material. "I feel like we occupy those elements, but it's very cool and very now and very fresh." 
Checkout the Storyteller track list below and watch the video for "Smoke Break," decidedly not a "mommy-and-me" track and the album's only visual accompaniment to date. For a full list of Underwood's public appearances and concert dates, head to the artist's homepage. 
Storyteller track list:
1. "Renegade Runaway"