New 2016 Poll Shows Hillary Clinton and Bernie Sanders Tied in New Hampshire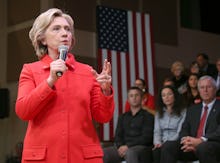 Hillary Clinton is having the best week of her campaign.
In a new Suffolk University/Boston Globe poll conducted after Tuesday's first Democratic debate, the former secretary of state earned the support of 37% of likely Democratic voters in New Hampshire. Sen. Bernie Sanders, the independent from neighboring Vermont, clocked in at 35%.
The results show a statistical tie in the Granite State, with the gap between Sanders and Clinton falling well within the poll's margin of error. But that result is nonetheless encouraging for Clinton — she hasn't had a lead in New Hampshire since July. Sanders has surged in the state in recent months and had held a formidable lead in the weeks leading up to the first debate.
The debate: Clinton's highly praised performance in Tuesday's debate may be the reason why she has gained ground among New Hampshire Democrats.
Fifty-seven percent of respondents to the poll said they had watched the debate. Of those who tuned in, a majority — 54% — said Clinton won. Sanders came in second, with 24% saying he emerged victorious. Former Maryland Gov. Martin O'Malley and former Virginia Sen. Jim Webb each earned the support of less than 1% of viewers.
Although several focus groups and early national surveys (including one commissioned by Mic) showed that viewers thought Sanders won the debate, two other polls released Friday fell in line with Suffolk's results and showed Clinton winning. An NBC News/Survey Monkey poll of Democrats who watched or followed news coverage of the debate found that 56% thought Clinton prevailed, compared to 33% for Sanders. Similarly, a Huffington Post/YouGov poll found 55% of viewers felt Clinton won, compared to Sanders' 22%.
The Suffolk poll also revealed what New Hampshire Democrats think of each candidate's position on gun control. Asked who best reflects their own position on the issue, 41% said Clinton, and 24% said Sanders. One of the testier exchanges of the debate came when Clinton criticized Sanders over his position on guns in her most direct attack on her opponent yet.
"Clinton's willingness to engage Sanders on gun control established her progressive credentials," David Paleologos, the director of the Suffolk University Political Research Center, wrote in a release. "And her debate performance solidified her standing with New Hampshire Democratic voters."
The Biden question: Vice President Joe Biden has been publicly weighing whether to jump into the race for weeks. Unfortunately for him, both Clinton's much-lauded debate performance and the results of the Suffolk poll show the window for his potential candidacy may be closing.
Half of New Hampshire Democrats do not think he should enter the race, with only 36% saying he should. He earned the support of just 11% of voters, compared to Clinton's 37% and Sanders' 35%.
Clinton has a strong lead on the question of which candidate can beat the Republican nominee in the general election. Fifty-two percent chose Clinton as the strongest nominee, compared to 16% for Sanders. Just 14% of respondents chose Biden as the Democrat most likely to beat the GOP nominee.
Nonetheless, Biden is showing signs that he could make an eleventh-hour bid for the nomination. Earlier Friday, the Associated Press reported that one of his top aides had sent an email to "Biden alumni," encouraging the former staffers and confidantes to be ready for him to throw his hat in the ring. The letter did not indicate whether Biden had made a decision, but did sketch out what a potential candidacy could look like, and promised that a decision would be made soon.
Clinton, for her part, is clearly enjoying the upswing in momentum coming out of the first debate. "You know, I am big on debates," she told a voter at a town hall event Friday in Keene, New Hampshire.