Only 0.1% of Models at New York Fashion Week Were Plus-Size, Finds New Report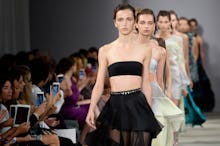 We knew that curvier models participating in New York Fashion Week were few and far between — but we didn't realize just how dismal the numbers were.
A new report, a biannual effort by the Fashion Spot, found that plus-size models accounted for only 0.1% of all models cast during New York Fashion Week.  
How many models counts as 0.1%? Fourteen, by the Fashion Spot's count. All 14 of those women came from two shows: Addition Elle and Chromat. In-demand plus-size models Denise Bidot and Sabina Karlsson walked both of those shows. 
Stunning numbers, on all matters of diversity: The numbers are shocking and draw attention to just how critical — and lacking — it is for fashion to showcase clothes on a truly representative group of women.
The Fashion Spot's report also digs deep into racial diversity during Fashion Week, compiling the stats from all the "weeks" in Milan, Paris and London, plus New York. 
What they found was that New York actually had the most diverse catwalks of the bunch. Just 71.6% of all models were still white, with black models making up 10.4% of the total. Milan landed in last place this season with 82.8% of all models cast registering as white. 
In recent years, the report states, the industry has been gradually increasing its diversity. Last season, for fall 2015, 80% of all models cast during the month were white. The numbers show an industry barely progressing in terms of diversity, but the slight decrease in white predominance shows a change. 
Why it matters: The Fashion Spot itself has expanded diversity report coverage this year to include transgender models. (A very small percentage — just 0.6% — were cast in a handful of shows this year, including Shayne Oliver's Hood By Air show in New York.) 
Including this metric was a move the site's fashion director deemed necessary. 
"We felt that to really examine diversity on the runway or in print campaigns, we needed to look at the full picture," the Fashion Spot's Maria Denardo told Mic via email. 
That full picture is key, but it's something so designers rarely bother examining. The runways shouldn't only strive to be representative of the women watching them; they're also an opportunity to communicate messages about beauty — and excluding models of color or size 14 models, for example, sends very specific messages.
For what it's worth, diversity pioneers Chromat had the most diverse show of fashion week, with 14 out of their 20 models being women of color, not to mention including plus-size women. 
Despite the minor gains this season, it's clear that fashion has a whole lot of work to do. They can start by taking cues from their peers.