Abraham Attah Is the Breakout Star of Netflix Feature Film 'Beasts of No Nation'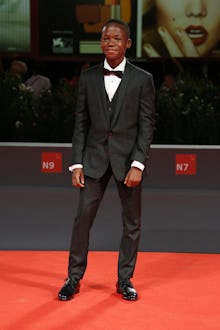 Introducing Abraham Attah: The 15-year-old acting prodigy of the breakout Netflix film everyone's talking about. The young Ghanaian made his silver screen debut on Friday, when Netflix premiered its first feature film, Beasts of No Nation. 
Beasts of No Nation premiered both on Netflix's streaming platform and in theaters on Friday, one of the first feature films to do so, according to International Business Times. Directed by Cary Fukunaga, the American film writer, director and cinematographer best known for his work on 2009's Sin Sombre and 2011's Jane Eyre, Beasts of No Nation depicts a gruesome civil war in an unnamed African country. 
Attah plays Agu, a child who is swept up by a troupe of rebels and transformed into a child soldier. His superior and the leader of the fictional guerrilla group is Commandant, who is played by British actor Idris Elba, aka "Stringer" from HBO's The Wire.
According to the Wall Street Journal, Attah landed his break-out roll quite by chance. On a production trip to Ghana, one of the film's casting directors spotted Attah playing soccer at school and extended an invitation to him to audition for the part. Attah was up against 1,000 other candidates, but was ultimately offered the part. 
"Sometimes it's too tough for me to watch," Attah told the Wall Street Journal of getting used to acting. "I don't like watching myself. [But] I was happy to shoot a movie."
Despite the buzz surrounding Netflix's new film, Attah is unconvinced of his growing fame. "[People] are talking but only my friends on Facebook," he told the Wall Street Journal. "They're telling me I'm famous in my country."
After Beasts of No Nation premiered in June at the 2015 Venice Film Festival, Attah was awarded the Marcello Mastroianni Award for best young actor. With that honor under his belt, Attah's budding acting career is already off to a sterling start, whether or not Attah's aware of it. Keep one ear to the ground for news of the young actor's next move, check out the trailer for Beast of No Nation below and add it to the Friday night queue.