Watch America Ferrera Try to Name 20 White Actors to Make a Point About Racism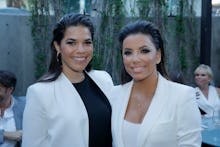 She's played characters who have had to overcome fat shaming, immigration policies and the cutthroat fashion industry, but actress America Ferrera just took on her greatest challenge yet: naming 20 white actors in under a minute. 
In a video posted to her Facebook page on Thursday, the Golden Globe-winning actress teamed with comedian Colton Dunn to parody the recent Billy on the Street segment "Latina Fey." In the original video, host Billy Eichner challenges Tina Fey to name 20 Latino performers in under one minute, in the style of an Oscar acceptance speech. Fey failed in epic fashion.
In Ferrera's video, she mimics Fey's stumbles. "That girl from Titanic, the woman," Ferrera says. 
Dunn offers help: "How about just put a name together," he says. "A first name and a last name, put them together. There's probably a white person with that name." Fererra shrugs. She can't even come up with one.
Ferrera spoke to the Huffington Post about her parody video's inspirations: "I am a fan of both Billy and Tina's, but it's a real bummer that, 'Can you name 20 Latinos?' is a scary question to ask a television and film producer in 2015," she told the Huffington Post. "It's telling and sad, but it certainly isn't adorable or entertaining to those who are the butt of the joke. We turned the tables in our video to show just how ridiculous it feels when you're on the other side."
"And let's just be real," she concluded, jokingly. "I'm mad she didn't name me."
Ferrera's comments echo those of fellow Latina and Golden Globe-winning actress Gina Rodriguez earlier this year. When Rodriguez, whose name Fey couldn't remember, won said Globe for her performance in Jane the Virgin in January, she spoke openly about the importance of seeing Latino role models on television and her pride in being able to be the role model she wished she had growing up.
"This award is so much more than myself," Rodriguez said. "It represents a culture that wants to see themselves as heroes." She then thanked her parents for giving her the chance to dream. 
"Thank you to my mom and dad for telling me to dream and to never stop dreaming," she said. "My father used to tell me to say every morning, 'Today's going to be a great day, I can and I will.' Well, dad, today's a great day. I can and I did."