Justin Bieber Releases Partial Track List, Guest Artists for Upcoming Album 'Purpose'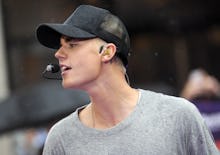 Pop prince Justin Bieber's fourth studio album Purpose is set to drop Nov. 13. The album, available to pre-order on iTunes, is co-produced by rap and social icon Kanye West and founder of Def Jam records Rick Rubin, Genius reports. 
The track list is not yet released, however Bieber has already unveiled a few hit singles featured on the record, including his "Where Are U Now." Biebs teased the album cover via Instagram earlier this month and encouraged fans on Thursday to pre-order the album. 
The album cover features tatted Bieber, shirtless in an apparent prayer position, overlaid with calligraphy symbols. 
Here's what else we know about the album, including the pending track list, guest artists and where to download the album's dropped singles.
Track list: Only two of the 18 tracks have been officially unveiled, and they're unsurprisingly Bieber's two current radio hits: "Where Are U Now," a collaboration with DJ Skrillex, and his latest single "What Do You Mean?" Bieber released a provocative music video for the latest single Aug. 30. 
A third track, only available for pre-order, is a cover of "What Do You Mean?" with singer Ariana Grande.
Genius speculates that a fourth track on the album will be titled "Sorry" and is rumored to feature Drake. Biebs teased what could be a snippet from the song on Instagram this week. Either way, it features Bieber dancing shirtless.
Both "Where Are U Now" and "What Do You Mean?" can be purchased on iTunes or streamed on Spotify.
Guest artists: So far, Drake, Skrillex and Grande have set the foundation for a stacked guest list, and more artists are rumored to contribute to the album as well.
Ed Sheeran may have co-written a track, Fuse reported, as well as rappers Big Sean and Nas.
Prince Jackson, Michael Jackson's 18-year-old son, may also be featured. According to the tabloid Page Six, Bieber and Jackson have spent time together in and out of the studio. 
Bieber's last studio album, Journals, was released in 2013 and included 18 tracks featuring high-profile artists including Lil Wayne, Chance the Rapper, R. Kelly, Big Sean and Future.