There Are Zero Black Women in the Senate. Donna Edwards Is Trying to Change That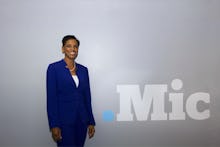 Earlier this month, Rep. Donna Edwards (D-Md.) stood on the floor of the House of Representatives to name the 301 Marylanders who have fallen victim to gun violence this year. She ran out of her allotted time and was cut off before she could finish, but her message was clear: Gun violence is an issue she's willing to fight tooth and nail to address, and she wasn't going to patiently wait for her time to speak. 
As an outlier of the political process, Edwards is used to being interrupted and knocked down, but she's also developed an acute ability to get right back up.
As a single mother who once relied on food stamps, Edwards didn't have a trust fund to dip into or a sea of wealthy donors pushing her to enter the world of politics. She didn't have prior political experience before her first campaign for Congress in 2006. Then, one morning she woke up and asked herself, "Why not me?"
"No one ever came to me and said, 'By the way Donna, we thought about [you] running for Congress,'" Edwards told Mic. "I self-recruited."
She was an active member of her community but had never held office. "Being an 11th-grade class president was like, the highest elected office I had ever held," she said. 
Edwards lost that first campaign, but was successful in winning a special election two years later. Having represented Maryland's 4th congressional district for the past seven years, she's now determined to bring her work to the Senate floor.
Edwards is running to replace outgoing Maryland Democratic Sen. Barbara Mikulski, the longest serving female member of Congress, who announced her plans to retire in March. If Edwards defeats Rep. Chris Van Hollen to win the Democratic nomination and emerges victorious in the general election, she would become just the second black woman in U.S. history to be elected to the Senate. (Former Sen. Carol Moseley Braun, a Democrat from Illinois, served one term from 1993 to 1999.)
This lack of representation in the Senate is all the more surprising given the fact black women are a key constituency of the Democratic Party.
"They are the most predictable, reliable and Democratic vote," Edwards said. "How do you envision having a conversation about changing the fabric of this nation without having a black woman around the table?"
No stranger to blazing trails: Edwards was one of only six black women in her graduating class at Wake Forest University in 1980. She became the first executive director for the National Network to End Domestic Violence in 1990. After losing her first campaign, Edwards bounced back and won in a landslide in 2008, garnering 81% of the vote in her heavily Democratic district.
As soon as she was elected, Edwards didn't waste time.
"When I first came into Congress, it was the summer of 2008," she said. "I came in a special election and people would say to me, 'Oh you know, it's a quiet time, just get the drapes and the carpet for your office.'" 
That was far from Edwards' plan. That summer, she helped win funding to enlist Maryland in the After School Suppers program.
Edwards didn't only get straight to work. She said she governed differently.
"My male counterparts could have done the same thing, but they didn't," Edwards said. "I think it's about perspective and offering unique perspective that says, 'We're going to place these things as priorities over other things.' Governing is all about priorities, and I'd like to think that the kind of priorities that I put on the table have to do with strengthening and supporting working families, and the things that are going to allow people to fully participate in the economy."
For Edwards, economic issues are undeniably feminist issues.
As both a member of the Congressional Black Caucus and the chairwoman of the Women's Democratic Forum, Edwards exists at the intersection of two underserved identities in politics: African-Americans and women.
When asked if she felt that women of color often struggle to have their voices heard among members of both groups, she didn't seem to think that was the case — at least not in government. She sees both groups being dedicated to being more inclusive of intersecting identities, and says that goal can be achieved by electing more women of color.
"When you're a black woman, you don't have a choice about wearing this hat or the other hat. You just wear the hat," Edwards said. 
That dynamic was clear to Edwards when she chaired the caucus of Democratic women in the House, and amended the group's talking points about equal pay to include the fact that black and Latina woman typically make 64 cents and 54 cents on the dollar, respectively, compared to white male counterparts.
"I can't imagine that would have [happened] if somebody else had been the chair of the women's caucus," Edwards said. "We wrote that into the script so that we could make sure that the voices of women of color were not lost in this larger issue."
Edwards wants to win next year, but she also wants to lead by example and encourage more women to run for office. 
"I think money is a huge barrier to entry for women of color in electoral politics and almost at any level," she said. "When I was the chair of recruitment for the Democratic Congressional Campaign Committee, I recruited a lot of women to run. When you ask a woman to run — guys get up in the morning and look in the mirror and think, 'Oh, I can be president.' I mean, look at the presidential candidates. Clearly a lot of people who just woke up one morning who just decided they could be the president."
We'll have to wait a few more months for the primary to see if Edwards can woo enough voters to win the Democratic nomination for Senate, but it's safe to say that regardless of the way the ballot goes, Edwards will have an impact on the country no matter where she sits.