Lamar Odom Update: Reportedly "Conscious" and "Breathing on His Own" at Las Vegas Hospital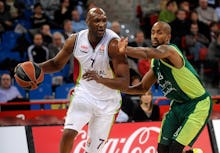 Former NBA player Lamar Odom is communicating and opening his eyes in the Las Vegas hospital where he has been staying since he was found unconscious in a Nevada brothel Tuesday afternoon. The 35-year-old reportedly asked to see his children immediately after waking up, and signaled he was feeling well with a thumbs-up toward his doctor, while also saying "Good morning," a family representative told Entertainment Tonight.
Professional athletes, celebrities and friends of the former Lakers player and reality TV star have been expressing their sympathy and support of the athlete ever since he was rushed to the hospital from the Love Ranch, a legal Nevada brothel in operation for more than six decades.
CNN reports Odom may have been using cocaine, as well as the dangerous supplement "herbal Viagra," in the days before he was rushed to the hospital in critical condition.